Competition success for Inverness College UHI painting and decorating apprentices
Painting and decorating apprentices at Inverness College UHI have picked up a top award at the prestigious Scottish Association of Painting Craft Teachers' National Painting and Decorating Skills Competition.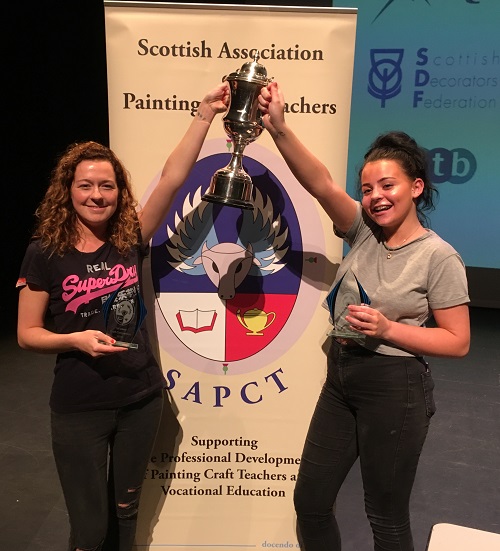 Jenny Taylor (26) and Lois Cheyne (19), both from Inverness, who are employed by local decorating contractor Artdec – Advanced Decorating Solutions, were awarded first place and the George Nicolson Trophy in the Team Craft competition, beating tradesmen and women from nine colleges across Scotland.
The students, who attend Inverness College UHI for training, worked as a team to complete practical tasks using the skills honed from their coursework and experience gained as apprentices. This involved demonstrating their skills setting out, free brushwork, paperhanging and other specialist decorating skills within a set time.
Maureen Turner, painting lecturer at Inverness College UHI, said: "It's a great achievement to win first place in this competition – we're all really proud of Jenny and Lois. The level of competition each year is very high, so it is great that the competition judges have recognised the high quality of their work. The standard shown by this year's competitors is proof that the industry is in safe hands and we were delighted to give Jenny and Lois the opportunity to shine.
"We always encourage our students to participate in events like this because it's a good opportunity to test their painting and decorating skills against the best young decorators in Scotland as part of a professional and well-recognised competition."
Lukasz Maslanka, company director at Artdec – Advanced Decorating Solutions, said: "Although all of us at Artdec are delighted that Jenny and Lois's skill and dedication have been recognised with this award, I can't say I'm surprised how well they performed. Both girls present a consistently high work ethic and will to progress. Their personal abilities make them valuable members of our team and I'm sure they will go far in the industry, especially with further expansion of our business.
"We always recognise the importance of supporting our apprentices by allowing them to achieve the relevant skills and experiences to succeed. Involvement in competitions as prestigious as this can help to accomplish this."
The Scottish Association of Painting Craft Teachers (SAPCT) National Painting and Decorating Skills Competition takes place in different Scottish colleges each year. This year the competition was held at Dundee and Angus College.
For more information about painting and decorating apprenticeships at Inverness College UHI, visit https://www.inverness.uhi.ac.uk/apprenticeships/ We also run an NPA in Painting and Decorating.