Inverness College UHI celebrates Graduation Day
Inverness College UHI celebrates its graduation ceremony today (Friday 4th October), honouring the achievements of almost 350 students.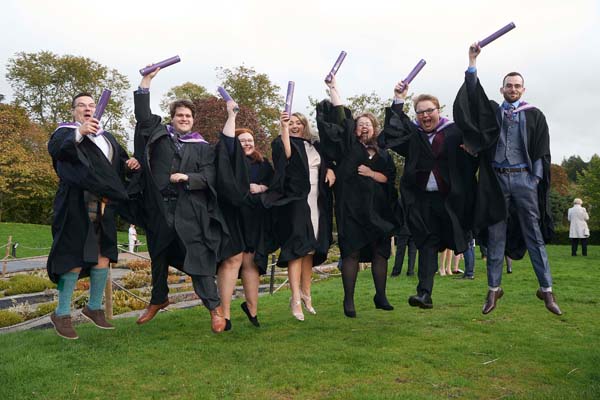 The students will be joined by friends, family and staff as they celebrate successful completion of a range of qualifications including higher national certificates and diplomas, undergraduate degrees, honours degrees and postgraduate programmes.
Two ceremonies will take place at Eden Court Theatre, Inverness, to accommodate the growing number of students now attending and graduating from Inverness College UHI.
The morning session starts at 10.30am and is for students graduating from courses within the Faculty of Arts, Humanities and Business. The afternoon session follows at 1.30pm for students graduating from courses within the Faculty of Science, Health and Engineering.
Dr Gary Campbell, Vice-Principal (Strategic Developments) of the University of the Highlands and Islands, presides over today's ceremonies, capping every one of the students as they receive their certificates.
Professor Chris O'Neil, Principal and Chief Executive of Inverness College UHI, said: "This marks the culmination of months, and indeed, years of hard work for our students and it is my great pleasure to congratulate every single student graduating today. It is an honour to see graduates, colleagues, friends and family come together to share in this celebration, which is reward and recognition for all they have achieved during their time at Inverness College UHI. I am very proud to be a part of this moment. We work hard to ensure our students leave us with the knowledge and skills to succeed in their chosen career and I wish them all continued success as they embark on the next chapter in their lives."
Today's guest speaker is influential portrait photographer Brian Griffin, who will speak about his journey from factory worker to one of the most influential photographers in the music industry, shooting album covers and publicity shots for the likes of Elvis Costello, Depeche Mode, Iggy Pop and Queen, and working for high-profile advertising clients including British Airways, Smirnoff Vodka and BMW.
Brian, a freelance photographer, film-maker, television commercial and music video film director, has exhibited work across the globe, directed commercials and films, and published countless books.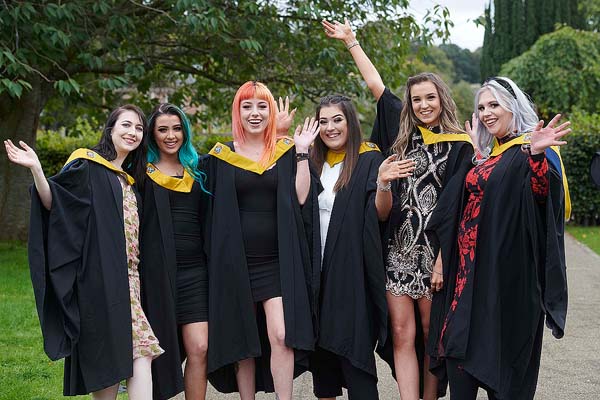 Dr Campbell will also confer an honorary fellowship from the University on Professor Alasdair (Alexander) Munro, from Inverness, a renowned and respected surgeon, teacher and researcher, who has been a driving force in the development of healthcare in the Highlands and Islands throughout his 50-year career. The award recognises his personal contribution and the leading role he played in the growth of the university in the area of health, particularly in establishing the Highlands and Islands Research Institute – now the Centre for Rural Health, which has generated much needed healthcare research activity in the region.
Inverness College UHI will also see three of its postgraduate researchers graduate with University of the Highlands and Islands research degrees. These are the first since the University was awarded research degree awarding powers in 2017.
Highlands and Islands Students' Association (HISA) Inverness president George Gunn will present a teaching award to MSc Psychology (Conversion) programme leader Matt Sillars, named best research/dissertation supervisor by HISA in 2018/19, while HISA will also present Sporting Blues Awards to highlight outstanding sporting achievement by its students.
Graduation stories:
Alastair Watt, BCs Computing (Networking)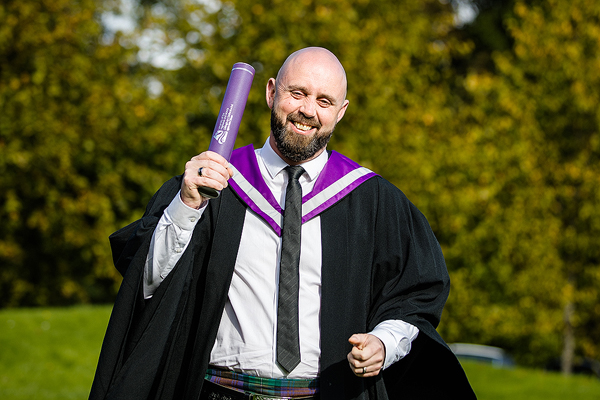 "Inverness College UHI has had a massive positive influence on my wife and I - it's an experience we will never forget," – Alastair Watt, who graduates today with a BSc in Computing (Networking) with distinction.
Alastair (40), of Nairn, worked as a poker room manager in London for 10 years before deciding to give up life in the capital and move back to Inverness. He initially worked as a portable appliance tester across the region before deciding he wanted a 'career' rather than a job, choosing to studying computing at Inverness College UHI.
Alastair is now self-employed as an IT consultant, working with Lifescan since January.
"I really enjoyed my time at Inverness College UHI and it's because of contacts I made there that I'm now working for Lifescan. I am really proud of what I have achieved, and I'm determined to continue learning through work and online CPD, having already completed additional CISCO certification through Inverness College UHI. I loved learning about cybersecurity, ethical hacking and networking, and it's made me realise this is what really fascinates me."
Alastair studied at the same time as his wife, Jane, who returned to study PGDE Primary at North Highland College UHI in 2016/17. Jane is now working as a P7 teacher at Auldearn Primary.
Aniéle Viljoen-Steele, BSc (Hons) Psychology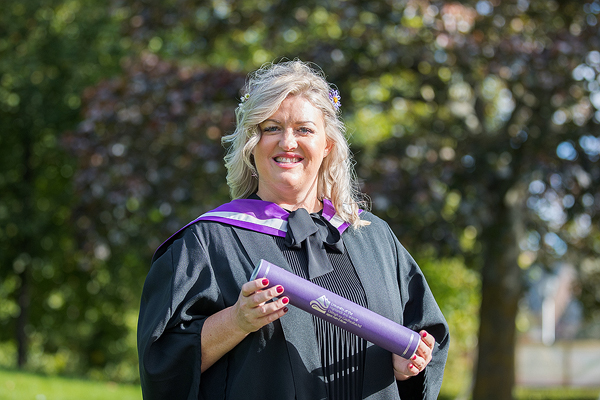 "As a mature student, proving to myself that I can achieve my goals has been important and holding my degree in my hand today is personal validation. I would encourage everyone to have the courage to challenge themselves because running away from fear, means you leave opportunity at the back door," - Aniéle Viljoen-Steele, who graduates today with a 1st class BSc (Hons) in Psychology.
Aniéle (38), of Cantray, near Dalcross, grew up in South Africa before moving to London. In 2012, she moved to the Highlands with husband Pete for a 'better quality of life.'
She said: "Inverness College UHI offers great opportunities to students from a range of backgrounds, who may not be considered as traditional, university applicants. I studied psychology because it offers highly desirable insight into health and behaviour change, something which really interests me. The programme is online, which suited me too. Being a smaller university, you get lots of personal contact and support from the tutors, with people willing to go the extra mile.
"It's sad to be leaving somewhere I have invested so much of my heart and soul in, but also exciting to be moving on to pastures new and developing my knowledge and skills. If I was to share my experience with others setting off on this journey, I'd say appreciate opportunities and have fun along the way – learning and development will be much more meaningful this way."
Aniéle was co-founder of the UHI Psychology Society and winner of the Citation for Excellence Award from the British Psychological Society for her dissertation, which explores positive psychology and tourism at an outdoor winter festival.
She started a PhD with the University of the Highlands and Islands at the beginning of September, working on a project, 'Physical Activity in Older Adults with Sensory Impairment.'
"I'm delighted to be continuing as a student here and playing a part in shaping this young university's reputation," she said.
Andrea Goddard, BSc (Hons) Environmental Science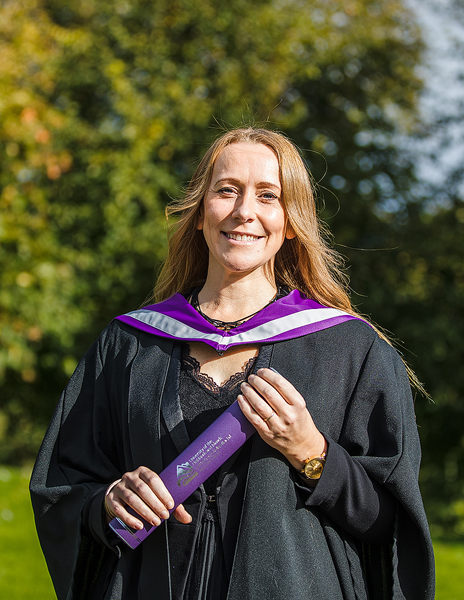 "Studying for my degree at Inverness College UHI has given my life new purpose. Enriching me with knowledge, skills and confidence I never knew I could have had, it has changed my life for the better, forever," – naturalist and wildlife campaigner Andrea Goddard, from Dingwall, who graduates today with a 1st class BSc (Hons) in Environmental Science.
"I've always had an avid interest in birds and natural history, yet realised that in order to become seriously involved with environmental issues I needed to become better educated in a broader range of scientific topics," said the 44-year-old, who manages the popular environmental campaign group 'Let's Get MAD for Wildlife' to raise awareness of wildlife crime in Scotland. "And, although the course was indeed broad in content, we were also encouraged to develop our specific interests. I became particularly interested in woodland ecology so was able to focus on that topic."
Andrea's dissertation, which gained top marks, looked at the winter roosting behaviour of a small woodland bird, the Eurasian treecreeper, and was subsequently featured in an article in the RSPB Wingbeat magazine. She plans to formally publish her research soon.
"The annual field trips were a real highlight, enabling us to socialise with fellow students and gain practical skills," she added.
She hopes to continue her research into treecreepers and woodland ecology, whilst continuing her campaign work, volunteering with the RSPB and monitoring raptor nests for the Highland Raptor Study Group.
Hannah Munro, Masters of Science by Research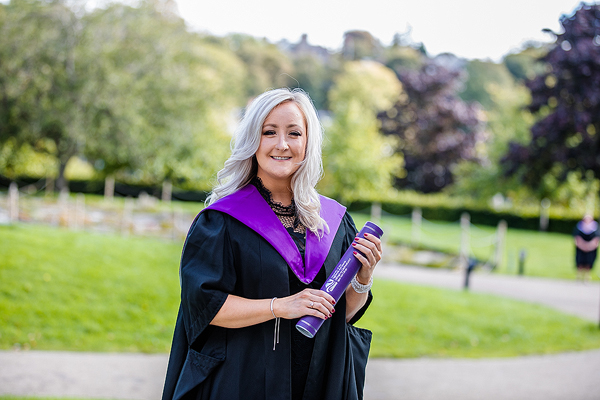 Today Inverness College UHI saw three postgraduate researchers graduate with University of the Highlands and Islands research degrees. These are the first since the University was awarded research degree awarding powers in 2017.
They included Hannah Munro and Nicholas Crutchley, Masters of Science by Research graduates, and Melanie Manwaring-Mackay, Masters of Letters by Research graduate.
Hannah (27) studied her Masters of Research, part-time, while working as a technician in the psychology department at Inverness College UHI.
The 27-year-old, who researched patient acceptance of diabetes video consultations for her Masters, said: "The opportunity to study at Masters level became available and I wanted to progress in my career and advance my research skills. The University of the Highlands and Islands encourages learning at all levels and the course is flexible, meaning I was able to work and study, which was ideal. I was given the freedom to develop as a researcher and explore the views of people living in the Highlands."
Hannah, from Elgin, started working as a psychology lecturer two years ago and is now doing her Teaching Qualification in Further Education (TQFE).
She said: "I am very lucky to have been supported and encouraged by colleagues who want you to succeed. Their enthusiasm for learning and career progression has been inspiring. My friends and family drove me to keep going, with celebrations at every milestone."
Ruth Carr-gomm, BSc (Hons) Geography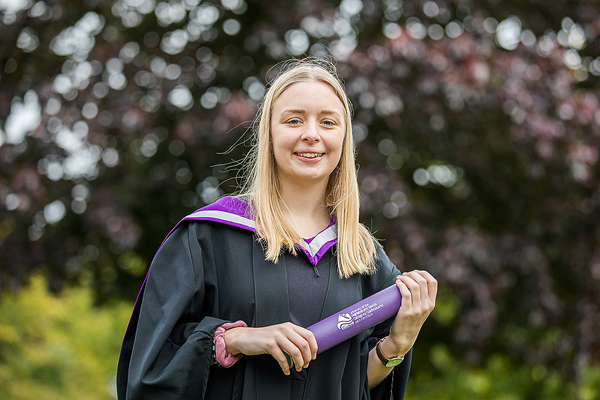 "I loved studying at Inverness College UHI as the smaller class sizes made for engaging discussions with lecturers and peers," – Ruth Carr-gomm, who graduates today with a 1st class BSc (Hons) Geography. She now works as a Graduate Transport Planner for engineer consultancy Jacobs in Edinburgh, working on projects all over Scotland for Transport Scotland.
She said: "I was really attracted by the accelerated programme – the ability to study for an honours degree in three rather than four years – and the small class sizes. The field trip to the Swiss Alps was amazing and linked the textbooks and theory to the real world. Hands on learning definitely allows you to see the value of the modules. There were vast opportunities to get involved in the community through employment, volunteering and events promoted by the College, which was particularly useful when companies came in."
Ruth, a former member of the UHI sailing team, is due to meet Highland Council to discuss the findings of her dissertation, which looked at whether students' access to public transports affects their success.
Hannah McGowan – BSc Oral Health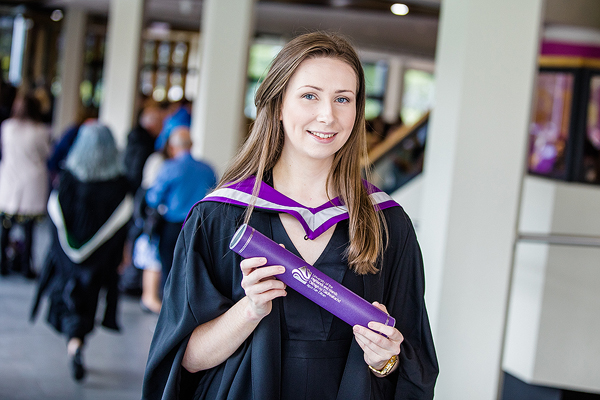 "I feel so grateful to have been able to undertake training of this quality in the Highlands, without the extra financial pressures that come from having to move away from home," – Hannah McGowan, who graduates today with a BSc Oral Health Science with distinction.
Hannah heard about the course through word of mouth and started the summer after finishing secondary school.
The 21-year-old, from the Black Isle, said: "The Centre for Health Science is a high-quality facility with excellent resources. I couldn't have hoped for a better environment to train in. The tutors are experienced and supportive, and there's a real focus on high-quality evidence based care for patients. You spend three years seeing patients under supervision, as well as attending tutorials and doing assignments. The course was hard work and full-on, but definitely worth it."
Hannah now has a dual qualification in dental hygiene and therapy, allowing her to register with the General Dental Council and work anywhere in the UK. She's currently working as a dental hygienist/therapist in Tain as part of a scheme run by NHS Education for Scotland to support newly qualified therapists.
"I'm loving it so far," she said. "Through the scheme, I'm attending monthly study days which will allow me to build on the foundations of my training at university and help me develop my skills further. After that, I hope to eventually go on to study dentistry."
She also hopes to have her research on sensitive toothpastes published in a scientific journal.
Bethany Welsh, Graduate Apprenticeship in Civil Engineering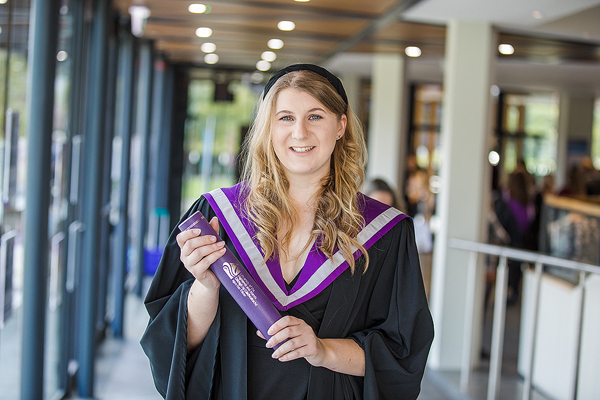 "I knew that the traditional university route wasn't for me. But, finding work as an onsite apprentice civil engineer with Balfour Beatty, at the age of 17, was the best way forward, as I've been able to learn through experience on site, while studying for a qualification with Inverness College UHI," – Bethany Welsh (22), who graduates today with a Graduate Apprenticeship (BEng) in Civil Engineering.
Bethany, from Forres, added: "I feel very lucky to have been able to stay in the Highlands, travel all over Scotland and work in civil engineering and study for a university qualification, all at the same time. It's been so rewarding and enjoyable – some parts were difficult during busy times at work, or exam times, but people in the class and lecturers are there to support you. Graduation is a great achievement and I am glad to spend it with people who I have worked with through this journey."
Bethany, who won an Institution of Civil Engineers QUEST scholarship in her first year and was named Balfour Beatty's apprentice of the year in 2018, added: "I'm looking forward to continuing in my career and furthering my construction knowledge through different roles in the company on the graduate programme.
Bethany has also been part of national campaigns, promoting construction, and spoke at the Young Scot Mythical Millennial Conference.
She said: "Construction has changed with the creation of many new jobs and is now an industry for all. I hope that I have helped to inspire others with the use of these campaigns, and I hope to be able to carry on doing this."
Gillian Smith, BSc (Hons) Applied Science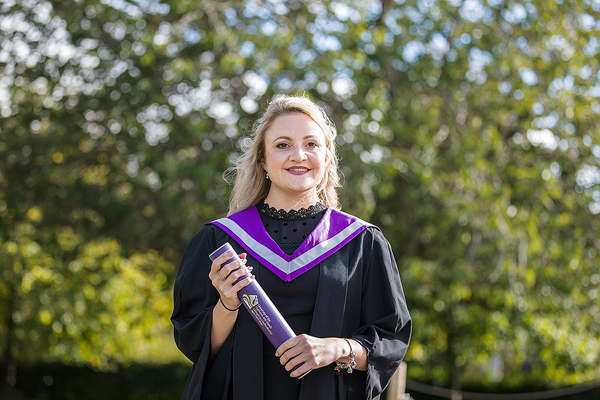 "I wasn't sure what I wanted to do as a career but Inverness College UHI offered me the chance to study a course I was interested in without the costs and commitment of moving away from home. Once I started, it was the enthusiasm and support of the lecturers, as well as the college's connection with local industry, that made me want to continue onto the degree," - Gillian Smith (27), from Inverness, who graduates today with 1st class BSc (Hons) in Applied Science (now BSc (Hons) Bioscience)
Gillian worked at Inverness Airport after leaving secondary school before deciding to return to study. She completed her degree while working for Lifescan as part of its undergraduate programme, allowing her to gain industry experience in the life science sector, earn a wage, and study at the same time.
She now works as a scientist in the research and development department at Lifescan.
"I thoroughly enjoyed my time at Inverness College UHI and would recommend the university to anyone who isn't sure what they want to do, or to anyone who knows but wants to stay in the local area. The lecturers and staff offer unique perspectives on coursework and industry and provide students with feedback and guidance on a level that wouldn't be possible in a larger university. I'm really excited to be graduating and can't wait to see what the future holds.
"Studying and working full-time during the honours year was hard work and there were times I didn't think I'd make it, but thanks to the support of lecturers, mentors at work, and of course, my family, I made it through."
"My plan now is to enjoy my new job and decide where my passions lie. Then, I might look at masters study."
Robyn Kay, BSc Oral Health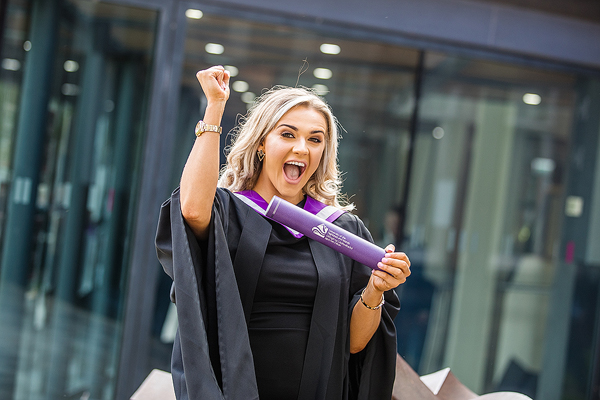 "I had such a great time at and will be forever grateful for my tutors who have allowed me to achieve what I have and got me to where I am today," – Robyn Kay, who graduates today with a BSc Oral Health Science with distinction. "I am so proud of myself."
Robyn (22) was a dancer all her life, turning professional at the age of 16. But, at the age of 19, she decided it was time to focus on her future career.
"A dental therapist and hygienist is always a career I have been interested in, as helping people is something I find very rewarding. I had been recommended the university by several people due to its great reputation and standard of education, so when I got accepted into my course, I was over the moon.
"I have met a lot of friends throughout my time here and they have made my time studying very memorable. The patients I saw were very kind and patient, which made my learning experience enjoyable and gave me the confidence I have today as a dental professional."
Robyn lives in Glasgow and currently works as a dental therapist/hygienist in Dumfries.
"I really enjoy it – it allows me to put into practice all the skills I learned at university, and develop more as a clinician every day," she said.
Claire Macdonald, BA (Hons) Contemporary Art and Contextualised Practice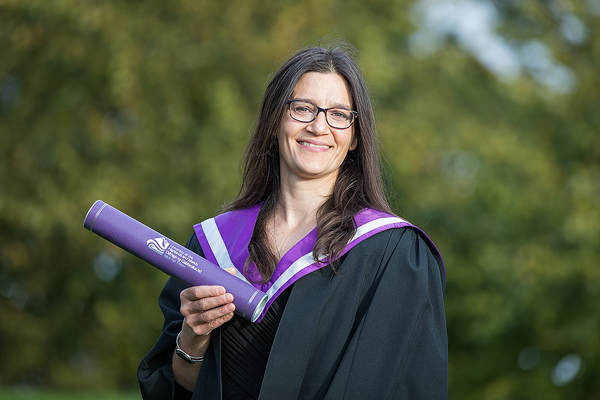 "My time at Inverness College UHI has allowed me to define my practice and forge networks with outside agencies and other professional artists. This honours degree opened up unexpected doors and opportunities," – Claire Macdonald, who graduates today with a 1st class BA (Hons) in Contemporary Art and Contextualised Practice.
Claire (47), who lives in Kincraig with husband Duncan and son Innes, initially trained and worked in theatre production crafts as a scenic artist, but after having a family, decided she was keen to work in more permanent, everyday public spaces, to encourage wellbeing.
"I had seen a job advertised that I had the skills for, but no portfolio. It made me realise I needed to update my portfolio to be able to apply for these jobs. The degree is all about work that has public engagement and social practice at its core. This was really fortuitous for me as I have a young child and could not have left the Highlands to study elsewhere."
Due to her previous qualifications and experience, Claire entered in the third year of the programme, studying a combination of part-time and full-time over three years.
"I have enjoyed the learning journey, even though it was tough at times. The programme includes a work placement element, which is extremely valuable. I did mine with a Glasgow Collective – icecream architecture. Later I gained a funded residency at Northlands Creative Glass Studio and two other residential workshops with leading practitioners."
Claire was also one of four artists nominated to design a proposal for a public art installation in Newtonmore, initiated by Newtonmore Business Association and Cairngorm National Park, to celebrate the rich heritage of the village and mark the start/end of the Speyside Way.
"I am currently continuing my studio practice and developing larger scale collaborations in the public realm to encourage wellbeing for all," she said.
Jamie Catoe and Edward Brown, BSc (Hons) Architectural Technology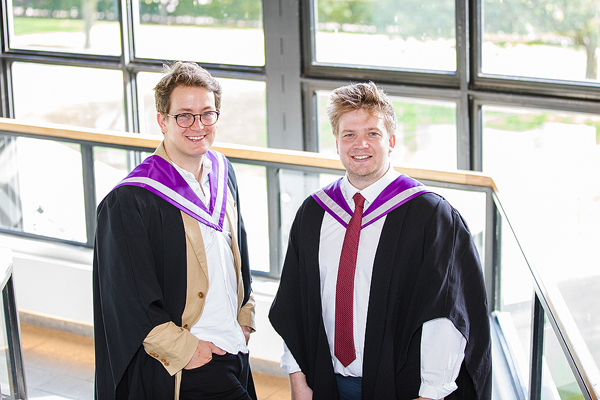 "Studying architectural technology at Inverness College UHI has given me the knowledge, skillset and confidence to set up my own practice and for this, I am eternally grateful. Studying here has given me an immense sense of pride," – Edward Brown, who graduates today with a 1st class BSc (Hons) in Architectural Technology, alongside classmate and business partner Jamie Catoe.
Edward (29), who moved to Inverness from Devon to study four years ago, explained: "I had always wanted to study architecture, but pursued other career paths after leaving school, none of which worked out. I decided it was time to do something that actually made me happy. Inverness College UHI offered the right course, at the right time. Inverness also presented an exciting opportunity to start afresh and focus on a new career path. The course was the perfect fit. I learned new technical aspects while developing and improving my design skills."
Edward, who lives in Inverness with his girlfriend Louise and 9-month-old son, Archie, participated in summer placements throughout his degree, and was recognised with an award from the Chartered Institute of Architectural Technologists (CIAT) in his 1st year.
He continued: "There's so many highlights for me – being able to use my creativity and passion to produce effective designs that not only looked good but worked too, and working on a range of interesting projects given to us by tutors."
Jamie (36), from Inverness, worked as a self-employed garden designer in London after graduating with a degree in landscape architecture from Edinburgh College of Art. He worked on various projects, including the Stirling Prize nominated Theis + Khan's Bateman's Row, before returning to Skye to care for his late grandfather. He initially planned to use the programme at Inverness College UHI as a stepping stone to a masters in landscape architecture.
He said: "I planned to do one year to brush up on my skillset, however, I found the course and its contents so good, I decided to stay to do the full honours degree. I also landed a job with R House at the end of my first year, which really helped me put the theory into practice.
"One of the highlights for me was attending the Inverness Architectural Association conference and awards, which was so inspiring and a great opportunity to listen and converse with people of outstanding talent."
Jamie, born in the USA and raised on the Isle of Harris, is now a partner in Catoe/Brown Architectural and Landscape Design Studio, which he founded with Edward earlier this year.
"It's great fun, creative and fulfilling," he said. "I made the right choice staying on and completing this degree – I'm now a successful business owner who loves what he does every day."
Edward added: "We pride ourselves on our holistic approach to building and landscape design. We have a strong understanding of place and space, delivering innovative architecture, landscape and urban design throughout a range of projects, utilising our strong beliefs for positive change. Our current mission is to improve the perception of architecture within the Highlands, developing irrepressible designs that encourages economical, environmental and social growth."
Isla Campbell – BSc (Hons) Forest Management with Arboriculture and Urban Forestry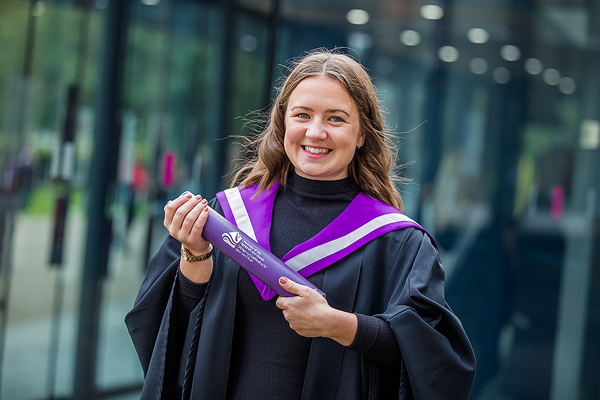 "I've had such a laugh, made so many friends along the way, and feel very happy to have been part of this huge family, which makes studying at the Scottish School of Forestry so special," – Isla Campbell, who graduates today with a BSc (Hons) in Forest Management with Arboriculture and Urban Forestry.
Isla (22), who lives in Strathpeffer, grew up in rural Aberdeenshire. She studied in Aberdeen before following her family through to the Highlands in 2015 – a move she described as being like "coming home."
She said: "The Scottish School of Forestry is a fantastic place to study and the Highlands are a beautiful place to live. The School has a long history of producing talent for the forestry and land-based sectors, and the courses have a great balance between classroom taught lectures, field visits and guest speakers, which gives students a unique study experience. The networking opportunities are excellent, with students having access to industry group meetings, talks and events. My experience has given me the qualification and confidence I need to begin and progress my career within the forestry sector."
Isla, winner of the CARAS (Council for Awards of Royal Agricultural Societies) Award at Lantra's Learner of the Year Awards in March and runner-up in the Higher Education category, currently works as a sessional worker for Glengarry Community Woodlands, helping to run forest school programmes and other family event. She is also a LANTRA industry champion, promoting land-based sectors at careers events and shows.
"It's my goal to one day be an environment or woodland ranger," she said.
Isla celebrates today with her family, including father Laurence, a lecturer at the Scottish School of Forestry.
Andrew Skinner, BSc (Hons) Sport and Fitness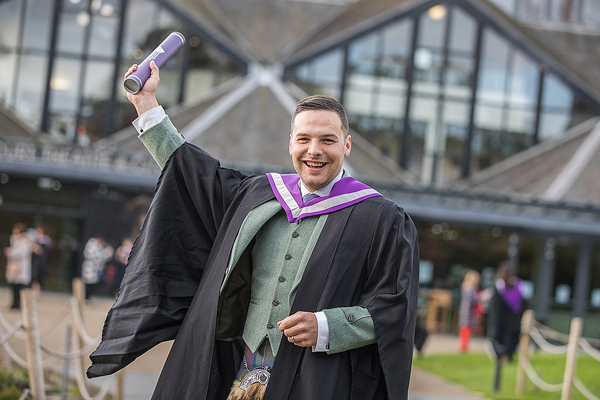 "My course has opened up so many different doors in the industry," - Andrew Skinner (25), who graduates today with a 1st class BSc (Hons) in Sport and Fitness. "I have really enjoyed my time at Inverness Colleges UHI and would recommend this course to anyone with an interest in sport or fitness. The facilities are fantastic, with a large games hall and fully-equipped fitness suite and lecturers have heaps of industry experience."
Andrew, who lives with wife Chloe, admits he didn't know what to do after being released by Inverness Caledonian Thistle Football Club from a full-time contract at the age of 19.
He said: "I came out of it with little education and undecided about my future. I was interested in coaching so decided to apply to study the HNC in Coaching and Development Sport. I really enjoyed it so progressed on to the HND, then the 3rd year and 4th year of the degree. I've met such a wide range of different people from all areas and backgrounds of sport and learned about everything from strength and conditioning, to exercise physiology and anatomy."
During the final year of the course, Andrew was involved in developing and delivering strength and conditioning multi skills workshop programme in primary schools in collaboration with Sport Scotland and Active Schools.
"That was a real highlight in my final year, the children loved the programmes – you could see the impact we were having," he said.
Andrew recently joined the supply lecturer team at Inverness College UHI, working with NC, HNC and HND students.
"I'm looking forward to developing my knowledge, and applying learning and teaching approaches to suit the needs of the students."
Evija Laivina, BA (Hons) Contemporary Art and Contextualised Practice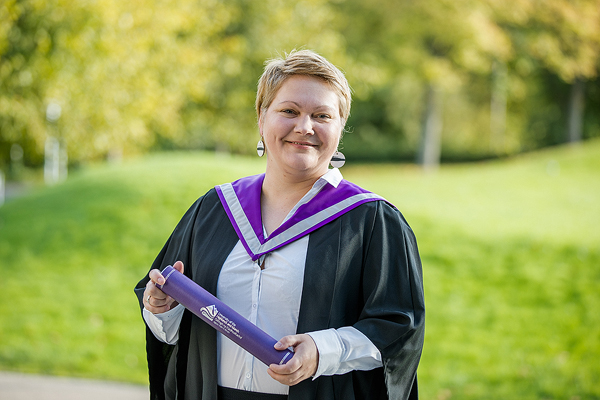 "Being together with fantastic, talented, creative people was a highlight every day," - Evija Laivina (40), who started her journey with Inverness College UHI on an ESOL programme after moving to Scotland from Latvia. She progressed to our Introduction to Art and Design, then to the NC, HNC, HND and degree, graduating today with a 1st class BA (Hons) Contemporary Art and Contextualised Practice. "I never imagined I'd be where I am now after enrolling on the ESOL programme five years ago."
Evija, a mother of three from Inverness, explained: "I chose to study at Inverness College UHI because I wanted to integrate into society here in Scotland, and studying art had been a dream of mine since I was little. I've enjoyed it so much – I've learnt so much about myself and my work. The lecturers have been amazing, and with their support, I achieved awards for my photography. I received the LensCulture Portrait Award in 2017, and was nominated for the prestigious Henri Nannen journalism award in Germany in 2018, for my Beauty Warriors project, a collection of photographs featuring strange and unusual-looking beauty products."
She now has her own studio at Inverness Creative Academy, where she continues her research and art practice, and is exhibiting at home, recently showing her project about Eastern European women in Scotland (Women with Flowers) at Nairn Community Centre, and abroad including Spain and Switzerland.
She continued: "I am experimenting with new ideas, and recently started a crowdfunding campaign to enable me to expand on my Beauty Warriors project – something I'm really excited about."
"I began studying theatre at the age of 18 to have fun, without any expectations to advance further. However, I fell in love with what the theatre has to offer and realised the opportunities drama can create for people of all ages and the potential benefits for health and wellbeing," – Ryan Thow, who graduates today with a 1st class BA (Hons) in Drama and Performance.
Ryan Thow, BA (Hons) in Drama and Performance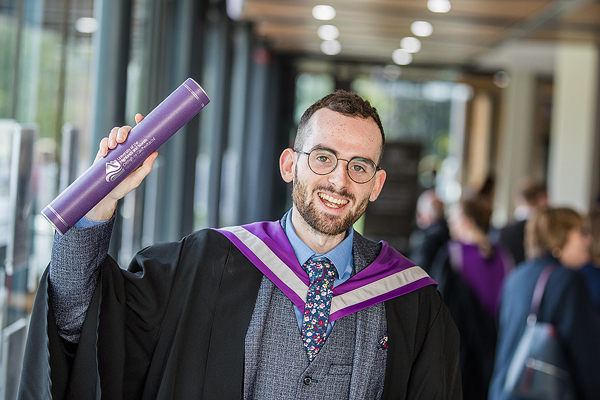 Ryan (24), from Inverness, studied NC Acting at the Out of the Darkness Theatre Company with Moray College UHI before applying to study HNC Acting and Performance at Inverness, progressing on to the BA (Hons) programme.
"I know just how much the city has grown and continues too, with Inverness College UHI being a key part of that growth. I decided to apply to Inverness when the new campus opened. I was excited to work with new facilities and equipment, which allowed me to learn and experience industry skills and techniques relating to all aspects of theatre.
"It took hard work, time and collaboration to achieve my degree, but it's been amazing. I recently created and performed a one person show as part of my studies, which I was lucky enough to tour around the Highlands and Islands. It was very well received and even scored a four-star review which was a fantastic experience."
Ryan added: "The course has provided practical experiences in acting, directing and creative writing, and the skills developed have allowed me to pursue a career in the theatre industry and a potential future career in teaching drama. Throughout my studies, I have met, networked and collaborated with so many talented people which has enabled lots of creative opportunities, which I am grateful for. Collaborating with colleagues to create unique pieces of work was always rewarding, and I've had the constant support of lecturers, family and friends who have encouraged me throughout my five years studying."
Ryan is now working as an actor, director and youth theatre worker. In particular, he is working with fellow Inverness College UHI drama and performance alumni to establish a theatre company to create and promote professional theatre in the Highlands.
Watch this space!
Fiona Young – MSc Advanced Nurse Practitioner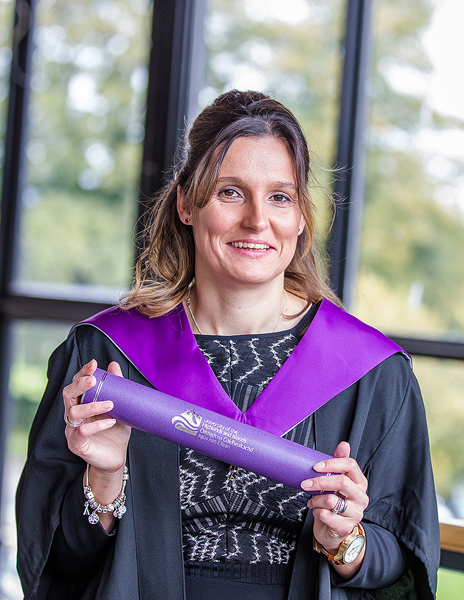 Fiona Young (39) from Culloden will be the first student to graduate from the University of the Highlands and Islands' MSc advanced nurse practitioner qualification.
Fiona, who works as an advanced nurse practitioner in the emergency department in Raigmore Hospital, completed the course on a part time basis over two years.
The programme, which is delivered by the university's department of nursing and midwifery, aims to equip nurses and allied health professionals and paramedics to lead and deliver advanced healthcare for patients and clients.
Fiona said: "I feel very honoured and feel a huge sense of achievement at being the first person to complete the Masters programme. I am hoping that others will follow my example and realise it is possible to achieve this with hard work and support from the tutors at the university as well as family and friends. I have two children and both my husband and I work full time, but the course is very accessible for people who have other commitments."
Two further students became the first to graduate with advanced nurse practitioner postgraduate diplomas this year. Carolyn Simmons (49), from Inverness, also attended the graduation, while Clair Kemp graduating in absentia.
Debbie and Jay Delonnette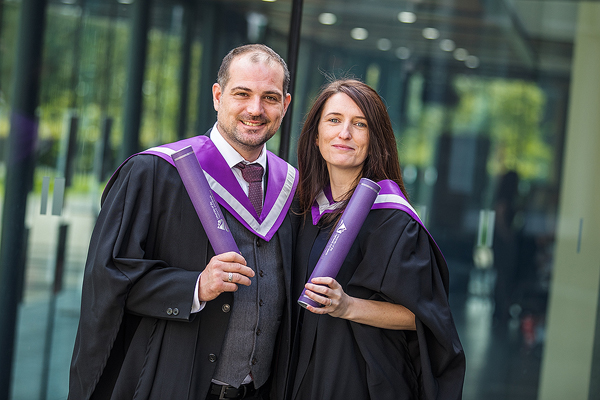 Husband and wife team Debbie and Jay Delonnette share Graduation day – Debbie graduating with a BA (Hons) in Health and Social Welfare, and Jay with a BSc (Hons) in Architectural Technology.
The couple, from Inverness, have five children and balanced full-time work with full-time study!
Debbie (40), who works as a principal housing officer with Highland Council, said: "It was hard work, there was lots of adapting and juggling, but it's all been worth it in the end. It's wonderful to be here with husband Jay to share graduation. The degree was really diverse and covered lots of different aspects of social impact, relevant to my work, so it's been really beneficial."
Jay (40) was working as an assistant store manager when he decided he needed a change.
"Architecture was something I'd always been interested in. The degree really challenged me, but it was 100% worthwhile. I never believed I could have achieved this and it's given me lots of self-confidence and opened up lots of opportunities."
Jay now works for Property and Land Surveys as a CAD technician.
Debbie is now doing a Masters in Housing through the Chartered Institute of Housing.