Inverness College UHI drama students work with mental health charity Mikeysline to support work
DRAMA students at Inverness College UHI have teamed up with mental health charity Mikeysline to raise awareness about the challenges people face and the support that's available.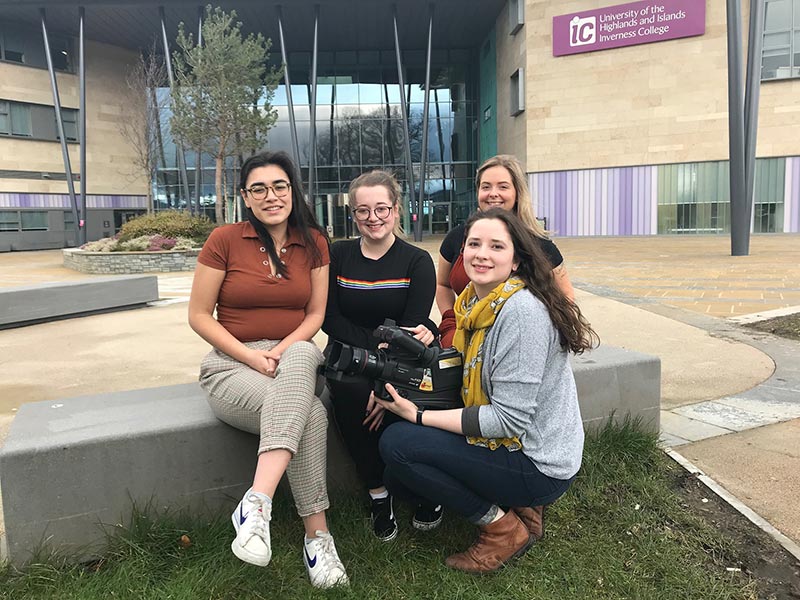 Third year BA (Hons) Drama and Performance students wrote, directed, produced and starred in the short film, Autumn Collapse, which tells the story of two people's struggle with mental health and the different paths they choose to deal with their difficulties.
It also features soundbites from the charity, its volunteers and people who have faced their own struggles, voiced by drama students.
Mikeysline provides support for people struggling with mental health challenges including loneliness and depression and aims to reduce the numbers turning to self-harm and suicide.
The short film stars students' Laura Walker, Tegan Wright, Rachel Venturini and Paulina Tomaszwicz and was filmed by NC Media students Neale McIntosh, Daniel Hutcheson and Eilidh Reid.
The project was set up by the Inverness College UHI drama department as part of the students' applied performance module, which challenges the students to come up with a piece of theatre or performance which creates positive change.
Last month students on the same course teamed up with Highland Hospice to perform Homeward Bound, a short play charity one couple's experience of palliative care.
Student Laura Walker (20) said: "What we love about this video is that it portrays real experiences. A lot of people struggling with mental health difficulties feel alone, but hearing first-hand of others peoples struggles and knowing they've managed to get help, and for many, are now supporting others, it's really powerful. This short film has a really positive message – that there is a way through when they feel in such a dark place."
Tegan Wright (21) added: "This is one of my first films and I really loved the experience. It's great for us as students but it's also really rewarding knowing you've done something positive, which could really change someone's life. I hope it helps a lot of people."
Rachel Venturini (22) continued: "Lots of people are watching videos now online, so this is something that's going to be really accessible, particularly to young people. I hope it makes a big difference."
Drama lecturer Stephanie Smart said: "We wanted to give the students a hands on experience and the opportunity to create drama out with the traditional theatre space. They worked with Mikeysline, who wanted to create a short film highlighting the struggles people face and the support available. The students did a fantastic job. The situations are very relatable and we hope it will prove a valuable resource for the charity going forward and it makes a difference to anyone who finds themselves struggling and in need of support."
Mikeysline founder Ron Williamson said: "We would like to thank and congratulate all involved in the making of this poignant film, which has been made with a degree of empathy and a depth of understanding far beyond their years. Students take the skills and lessons they learn at college and university and apply them in their own lives – if just one of those skills is the ability to help those less fortunate than themselves and being there for them, and just one of those lessons is that 'it's okay, not to be okay' then we can all hope for a better future where the stigma of mental health problems are eradicated. Mikeysline is proud of the excellent level of engagement we have with the staff and students at Inverness College UHI, and thank them all for their continued support."
The short film will be shown at the Scottish Mental Health Arts Festival at Eden Court Theatre in May.
Inverness College UHI is committed to supporting students facing mental health challenges and, in line with colleges and universities nationally, has seen an increasing number of students presenting with mental health difficulties. Staff are proactive in supporting them, providing a range of help including cognitive behavioural therapy and counselling. The college also runs wellbeing and resilience workshops for all students and has student ambassadors trained to deliver techniques to help their fellow students manage better.