Inverness College UHI Early Learning and Childcare Centre wins Scottish NMT Nursery Award
The Early Learning and Childcare Centre at Inverness College UHI has won the Staff Training and Development Award at the Scottish NMT Nursery Awards 2019.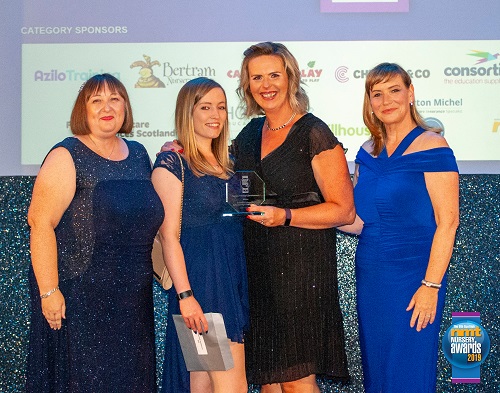 The Early Learning and Childcare Centre, on Inverness Campus, was also a finalist in the Individual Nursery of the Year category of the Awards, which took place in Glasgow.
The centre provides childcare up to the age of 5 for staff, students and members of the public.
Judges said the centre had the "best interests of the children" at its heart and the whole team were engaged and motivated to "learn, develop and consistently challenge themselves to strive for excellence."
Cat Mackenzie, manager of the Early Learning and Childcare Centre, said: "I am delighted to receive this award on behalf of my team. Lots of hard work and dedication goes in to ensuring we provide the highest quality of child-led care and learning to the children we look after, and that we continue to upskill staff in response to this ever-changing industry. We're proud to work with lots of different students who come in to gain work experience in childcare, and it's wonderful to be recognised as sector leading for the work we're doing in this area."
In April, the Early Learning and Childcare Centre was rated as 'excellent' and 'very good' by the Care Inspectorate, making it one of the best performing childcare centres in Inverness. Last year, it was awarded the prestigious Eco-Schools Green Flag Award by environmental charity Keep Scotland Beautiful.
The centre currently has spaces available for children of all ages.
Winners of the Scottish NMT Nursery Awards 2019 were presented with their trophies at the high-profile gala night held on Friday 30th August at the Hilton Glasgow Hotel, attended by approximately 400 guests.
Organised by Nursery Management Today, the leading business publication in the nursery sector, the Awards are designed to "discover and reward the very best people" in the Scottish nursery sector.