Inverness College UHI graduate lands dream job at Lifescan
AN Inverness College UHI graduate has landed a promising career as a scientist at Lifescan just days after completing her studies.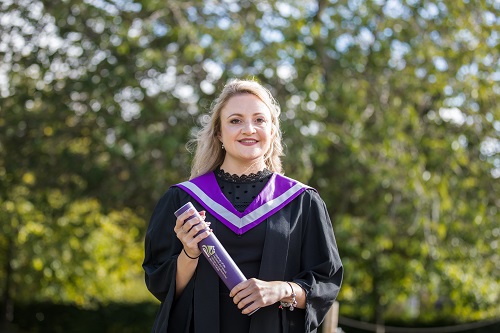 Applicants would usually need a PhD to land such a role, but Gillian Smith impressed Lifescan with her academic ability, motivation and practical skills.
Gillian, from Inverness, recently completed the company's undergraduate programme, which saw her combine paid work at Lifescan with the University of the Highlands and Islands' BSc (Hons) in Bioscience, from which she graduated in October with a 1st class degree.
The 26-year-old described combining an academic qualification with workplace experience as the perfect blend.
She said: "I've learned so much by combining my degree, and the knowledge and skills gained as part of that, with my experience working for a company like Lifescan. I've had the support of fantastic lecturers and a network of professional mentors and am delighted to be given this opportunity."
Gillian worked at Inverness Airport after leaving secondary school before deciding to return to study, enrolling on the HNC Applied Science at Inverness College UHI. The HNC allowed her to stay in Inverness and study, while providing a hands-on, practical approach to learning science.
She added: "During the HNC we visited several local industries to get a feel for the range of career opportunities available to scientists in the local area. While on a visit to LifeScan we were informed of their undergraduate programme and I realised it would be a great opportunity for me to gain experience in a relevant field, earn a wage and continue my studies with Inverness College UHI all at the same time. Combining industry experience with studying enabled me to become more confident in my studies and improve my data analysis and report writing ."
Gillian, who was named Inverness College UHI Higher Education Student of the Year for Science, joined Lifescan at the start of her 2nd year, combining four days of work with one day to attend Inverness College UHI for lectures and tutorials. She was also able to study independently, in her own time, via the university's virtual learning environment.
She worked between different departments at Lifescan, rotating between quality, clinical and research & development, allowing her to experience a wide range of learning opportunities. In her 4th year, Gillian was able to specialise her dissertation on work she had been doing at Lifescan testing carbon-based glucose test strips for diabetics.
Not only did she land her dream job, Gillian also co-authored an academic paper in her final year, which was published by the Journal of Diabetes Science and Technology on 3rd September 2019. The paper demonstrates, through post market surveillance, that a glucose test strip shows no evidence of interference, irrespective of medication when used by a diabetic population.
Stuart Phillips, a senior scientist in research and development at Lifescan, said: "We're looking for people who show promise and want to stay in Inverness and work in this industry. The university's science degree is particularly appealing to us because it's hands on and practical. By combining it with the work experience we can provide, we ensure we have the right people, with the right skills to hit the ground running at Lifescan.
"Gillian was a wonderful student and that's testament to the position she now has at Lifescan, which wouldn't be generally offered to someone coming straight out of university. Usually a graduate would have to go through our own two-year graduate programme before they could apply for Gillian's job, but through this undergraduate programme in partnership with the University we can engage with talented students early on in their learner journey."
Craig Lowther, Head of Education and Applied Sciences at Inverness College UHI, said: "Inverness College UHI has a close working relationship with Lifescan across a range of curriculum areas and we're delighted to be partnering with them on our BSc (Hons) Bioscience blended undergraduate programme which allows students to combine the academic rigor of a qualification with the structure, discipline and experience they gain in the workplace."
Inverness College UHI currently offers formal Graduate Apprenticeships in Civil Engineering and Early Learning and Childcare, which allow people to work, earn and study up to degree level, with plans to expand this offering to including Engineering and Applied Software Development next year. It is also looking at current provision to increase opportunities for people to undertake work-based degree level study.
For more details about the BSc (Hons) Bioscience or to find out about Lifescan's undergraduate programme, contact:
Dr Anthony Luke
Anthony.Luke.ic@uhi.ac.uk
01463 273 573