Inverness College UHI hosts annual student awards ceremony
More than 300 people, including proud friends and family, have gathered at Inverness College UHI to see this year's top students honoured at its annual Student Awards.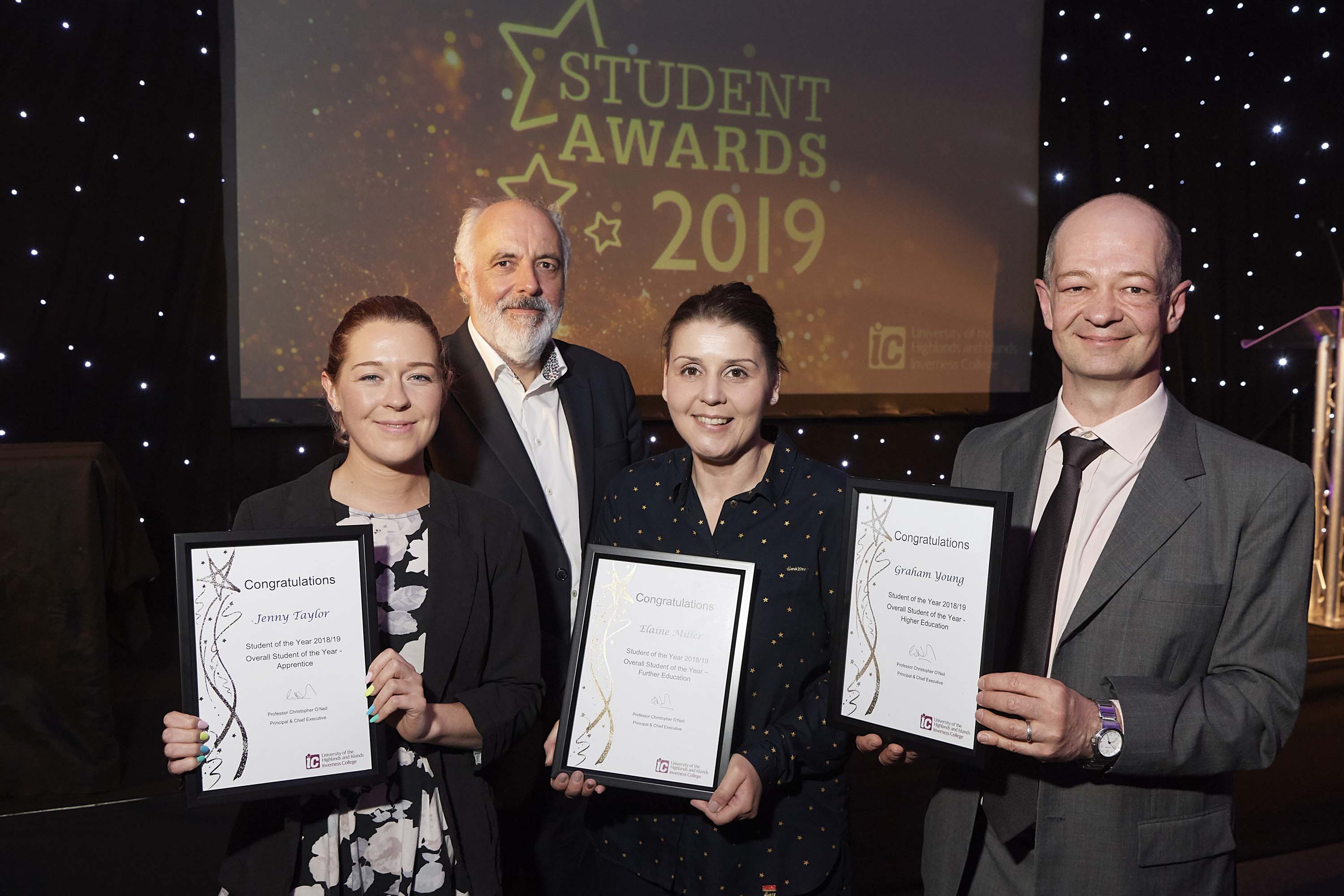 A total of 72 students were awarded prizes at this year's ceremony, which took place at Inverness College UHI on Thursday 20th June to mark the end of the academic year.
The awards celebrate achievement, success and personal endeavour across the entire curriculum, including further education, higher education and apprenticeships.
Students were nominated by Inverness College UHI staff and sponsored by a local business or organisation, who donated a prize.
The prize-giving culminated in the crowning of this year's students of the year. Graham Young took the award for Higher Education, Elaine Miller for Further Education and Jenny Taylor for Apprentice of the Year.
Professor Chris O'Neil, Principal and Chief Executive of Inverness College UHI, said: "These awards are all about celebrating the achievements of our wide and diverse student body and demonstrate the professionalism, ambition and determination of our students, which is recognised by our generous employers who we work alongside to ensure our graduates are work ready. I feel incredibly proud of what these students have achieved so far as part of their learning journey and I'd like to personally congratulate every single one of them."
Former Inverness College UHI student and University of the Highlands and Islands Alumnus of the Year 2018, Rachael Bews, attended as guest speaker. She talked about her career since leaving Inverness College UHI and offered her words of advice from lessons she's learnt along the way.
Graham Young (50), from Fortrose, was named overall Higher Education Student of the Year. Graham, a pupil support assistant at Fortrose Academy, studied the SVQ3 Children and Young People programme.
Graham taught English in Hong Kong for 23 years before moving back to Fortrose with his wife Shirley and daughter Jessica.
Lecturers describe Graham as a "positive role model" for men interested in entering the early years and childcare profession and someone who is extremely passionate about the young people he supports, showing "humour, grace and sensitivity."
Graham said: "When I moved back to the UK, I attended classes with the Men in Childcare charity in Glasgow. I was working as a teaching assistant in a primary school and could see how rewarding working in early years could be. It motivated me to return to study. Inverness College UHI offered me the flexibility to be able to do that part-time and online. I love working with young people, seeing how they explore interact with their peers and express themselves. Children look for male and female role models in their early years so it's so important to encourage more men into the sector. It is great to see Inverness College UHI is offering childcare courses for men. I am delighted to receive this award."
Elaine Miller, from Inverness, was named overall Further Education Student of the Year. Elaine (37) worked early shift work with Scotbake, while attending barbering classes at Inverness College UHI two evenings per week. Lecturers describe how Elaine's confidence and talent for barbering has grown through her studies.
Elaine said: "I'd wanted to do barbering since leaving school but I lived in Thurso and didn't have the opportunity. When I moved to Inverness, my priority was work. The years went by and I realised I was approaching 40 and I needed to follow my passion, and Inverness College UHI offered the opportunity to continue working and study. It's been hard work, balancing everything, but it's been the best thing I've ever done. I'm incredibly shocked to receive this award tonight, it means so much."
Elaine now works full-time at Uppercut Barbers in the Victorian Market, Inverness.
Jenny Taylor (27), from Inverness, was named the overall Apprentice of the Year. Jenny studied the full-time NPA Painting and Decorating programme before starting a Modern Apprenticeship in Painting and Decorating with Inverness firm Artdec. Lecturers describe her as a positive role model, who excels in her work and is always looking for ways to develop her skills.
Jenny took first place in the Scottish Association of Painting Craft Teachers' Craft Competition in 2018, and second place in the Advanced Craft Competition in 2019.
Jenny said: "I love my job so to receive recognition like this after all the hard work means so much. Being a woman in a male-dominated industry has never been an issue – my employer and my lecturers have been so supportive and I'd like to thank them for all their help."
Senior phase secondary school pupils, studying as part of our schools programme, also picked up awards for their achievements. These included Lewis Ferrier, from Dingwall Academy, who studied the Skills for Work Automotive Skills programme; Xavier Rae, a pupil at Kingussie High School, who studied the National Progression Award in Professional Cookery; Natasha Anderson, a pupil at Dingwall Academy, who completed a Foundation Apprenticeship in Social Services, Children and Young People; and Scot Maclennan, a pupil at Charleston Academy, who studied the Care Practice Higher programmes.
Andrew Bowie, president of the Highlands and Islands Students' Association (HISA) Inverness, presented Class Representative of the Year awards to Ken Povey (Higher Education) and Summer Findlay (Further Education).
Inverness College UHI Board of Management also presented its Endeavour Award to Kevin Ross. Supported education student Kevin has been with Inverness College UHI for 10 years and will graduate from the Skillsbuilder 1 programme next year. Staff are currently working with Kevin to support him to find a job.
Neil Stewart, chairman of the Inverness College UHI Board of Management, said: "Kevin has grown in resilience, confidence and assertiveness as a student at Inverness College UHI. He's a great communicator and his personality shines through. He puts in a lot of hard work and is a fitting winner of our Endeavour Award."
Sponsors included Saffery Champness, Succession Wealth, Macleod and MacCallum, Cairngorm Group, Equiom, Capgemini, CRU Holdings, Glen Mhor Hotel, SQA, Kingsmills Hotel, Scotbake, Northern Recycling Solutions, Blackwells, Castle View Personnel, Angus MacLeod, Jewson Inverness, Civil Engineering Contractors Association (CECA), Pat Munro, Robertson Group, MacGregor Industrial Supplies, Summer Isle Enterprises, Institute of Civil Engineers, Korrie Technical, Bell Group, Artdec, Historic Environment Scotland, John A MacLean Stonemasons, WASP Studios, Eve Taylor, MFR, National Geographic, Wella, E.A.Ellison, College Kits Direct, Seawhite of Brighton, Origin Fitness, Capital Document Solutions, Gael Force Group, Highland Print & Design, Mowi, LGN Property Maintenance, Ross-shire Engineering, BSW Timber, Lifescan, Dicksons of Inverness, Dingbro, Edmundson Electrical, Veolia, SGL Carbon, Royal Scottish Forestry Society, Institute of Chartered Foresters, and Scottish Provincial Press.
2019 Student Awards programme including full list of winners