Inverness College UHI move into Inverness Creative Academy
Inverness College UHI has moved into artist studio space within Inverness Creative Academy to provide new collaborative opportunities for students.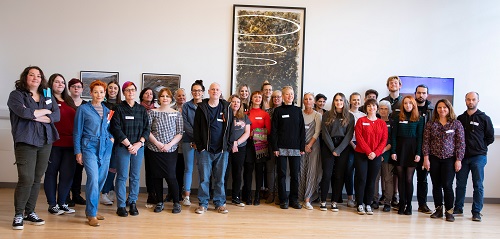 The outreach space will be used by students studying art programmes at Inverness College UHI and enable greater community and industry partnerships.
Run by Wasps, Inverness Creative Academy opened in November, transforming Inverness College UHI's former campus into the Highlands' first major creative hub, creating a space for artists, makers and creative industries.
Circus Artspace facilitated the first workshop in the new space on Friday 11th October. The one day professional practice workshop in exhibition installation, collaborative planning and curation involved students studying BA (Hons) Contemporary Art and Practice at Inverness College UHI and Perth College UHI, and students studying BA (Hons) Fine Art at Moray College UHI.
Sharon MacFarlane, Head of Creative Arts at Inverness College UHI, said: "We are delighted to have signed this deal with Wasps, which presents exciting opportunities not only for Inverness College UHI staff and students, who will have access to professional artist studio space to work from during their studies, but also the wider University partnership by providing space for more creative collaborations. In addition, we will be holding classes there for our own art students, providing them with access to an inspiring, creative environment and networking opportunities to engage with practicing artists in the Highlands, including our alumni, and help them identify potential career paths. It will also give us a space in the city centre to exhibit student works, which is important."
Inverness College UHI also intends to use the space to strengthen links with industry and run community workshops from next year.
The College has leased three rooms at Inverness Creative Academy, having originally moved out the building in 2015 when its new building opened at Inverness Campus.