Inverness College UHI students design digital programme for Scottish Premiership football club
STUDENTS at Inverness College UHI have been given a unique opportunity to design a new digital match day programme for Ross County Football Club.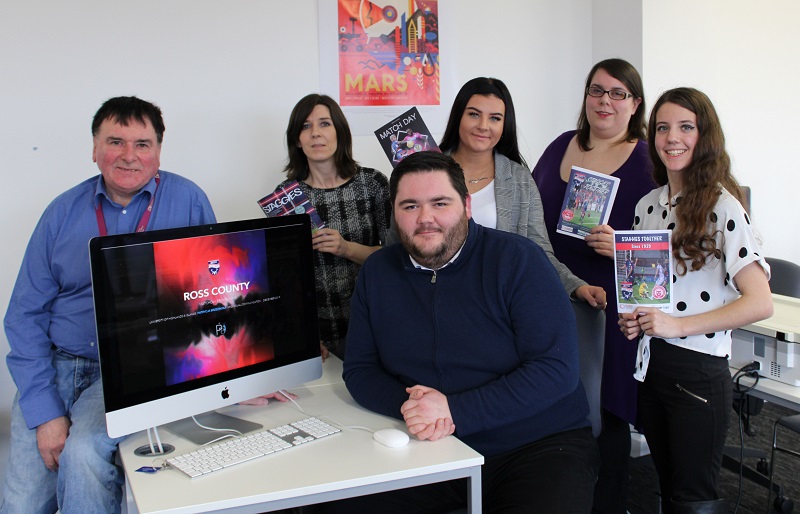 The Scottish Premier League club challenged students in the 2nd year of the University of the Highlands and Islands' HND Visual Communication programme to come up with a completely fresh design for a new supporters' programme, which recognised the community values of the club and the importance of its fans. The students were also asked to come up with new ideas for content.
Dale Pryde-MacDonald, brand development officer for the club, visited Inverness College UHI on several occasions to work through the brief with students, feedback on their designs and offer his advice on working in the communication industry.
He was so impressed with the students' work, one design will now be taken forward as a template for the club's new digital programme. The club hopes to launch the new programme before the end of the season. The students have also been given an opportunity to take part in additional work experience with the club in developing the concept.
This collaboration is just one of a number of partnership projects between Inverness College UHI and Ross County Football Club. Students studying sports programmes also have access to placement opportunities at the club including in coaching, video analysis and soft tissue therapy.
Inverness College UHI hopes to strengthen this relationship further with the development of new sports facilities at Inverness Campus, which will be used by students across the University of the Highlands and Islands partnership as well as the community. Phase one includes construction of a synthetics sports pitch on campus.
Naomi Cameron (20), from Culloden, an HND Visual Communication student, said: "I don't follow football, so it was quite challenging at first, however, Dale gave us lots of constructive feedback and confidence to be bold with our designs. The knowledge we've gained and the advice we've received has been invaluable and we're delighted that one of our designs will now be turned into a real product for the club. It's fantastic getting to work with 'real' clients, to meet them face to face, to discuss and debate ideas and see the reaction to what you've created."
Dale Pryde-MacDonald, brand development officer for Ross County: "The journey for some of these students from the first meeting to the final product has been fantastic. This project is something we are looking at but we are taking our time as launching a new digital programme comes with expectations that we want to meet for our fans. The students have really grown and developed, and we are delighted with the calibre of the final products. As a community club it is important for us to be working in partnership with UHI and this product perfectly shows what we want to achieve."
Ken Gowans, art and design lecturer at Inverness College UHI, said: "Our industry partnerships play an essential role in shaping the student experience and creating graduates ready for the workplace. Opportunities like this allow students to develop their skills, experiment with their creativity, and develop confidence. The quality and diversity of work produced by these 2nd year students was remarkable and it's testament to their talents that Ross County want to take forward one of the designs. Dale provided fantastic feedback and advice and I'd like to thank him and Ross County for their support."