Inverness College UHI students tackle 'sexting' and child sexual exploitation with design
AN innovative poster campaign and an app designed by students at Inverness College UHI to tackle the issue of 'sexting' and child sexual exploitation in Highland are to be formally rolled out.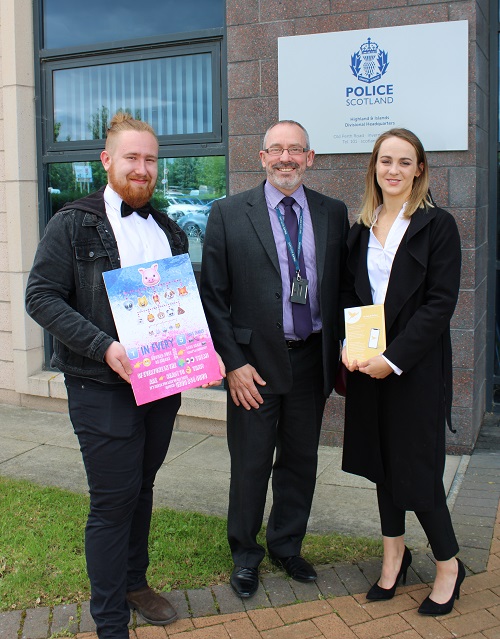 The Highland Child Protection Committee challenged third year students studying BA (Hons) Visual Communication and Design to look at the issues around child sexual exploitation and come up with a design intervention to tackle an aspect of it.
The committee was so impressed with the students' work they've decided to take both ideas forward.
The students researched the brief, looking at everything from exploitative situations affecting children and young people, to personal relationships and the imbalance of power, as well as sexual exploitation online, including sending or posting explicit images and taking part in sexual conservations or activities via a smartphone or online.
Student Oskar Potocki (23), from Inverness, looked at the issue of sexting, creating a direct poster/leaflet campaign, which highlights the statistic that 1 in 5 sexting recipients will forward the message on to someone else. His campaign was based on emojis to engage young people.
Oskar said: "I wanted to design something which spoke the language young people use day to day. So, on one side, the key messages are conveyed using mostly emojis, then, on the back there's more information for parents about sexting. It's also really bright and eye catching. The statistics around sexting are really frightening, so I'm delighted the Highland Child Protection Committee want to use my designs."
Oskar's designs will developed into festival flyers and resources for schools and youth groups.
Meanwhile, student Rachael Allan (21), from Golspie, looked at sex education and relationships more widely, developing an app focused on prevention of child sexual exploitation based on research from the Netherlands. Her app provides parents and carers with guidance and information on how to approach subjects, at the right stage in their development and in the most appropriate way.
Rachael said: "This was a really challenging brief because the issue of child sexual exploitation is so huge, but I'm really proud to have created something with longevity that could make a real difference and help people develop more positive relationships and give parents and carers confidence to have open conversations with their children."
The committee intend to work with Rachael in her final year to develop the app further with third sector organisations with the aim of making it available for download.
Detective Chief Inspector Vince McLaughlin, chair of the Highland Child Protection Committee, said: "It's the first time we've worked with Inverness College UHI on a collaborative project and we've been so impressed with the work produced and intend to continue to work with both students to bring their ideas to fruition. They really brought an original, fresh perspective to the challenges we face and we can't wait to see how these designs develop."
Ken Gowans, art and design lecturer at Inverness College UHI, said: "Our Visual Communication and Design programme is rooted in live projects with real clients, which are invaluable to our students' learning experience. We work closely with our local community and industry and welcome any approaches for collaboration. Child sexual exploitation is a serious and challenging issue and this has been a particularly rewarding project for our students. The standard of Oskar and Rachael's work was exceptionally high and I look forward to seeing their designs progress."
The project formed part of the Committee's child sexual exploitation prevention work, encouraging discussions between parents/carers and young people in relation to online safety and positive relationships.