Inverness College UHI team up with DYW and SDS to present the Highland Apprenticeship Showcase
EMPLOYERS from across the North of Scotland will come together at Inverness College UHI on Thursday 7th March to promote the wide range of apprenticeship routes and opportunities in the Highlands and Islands right now.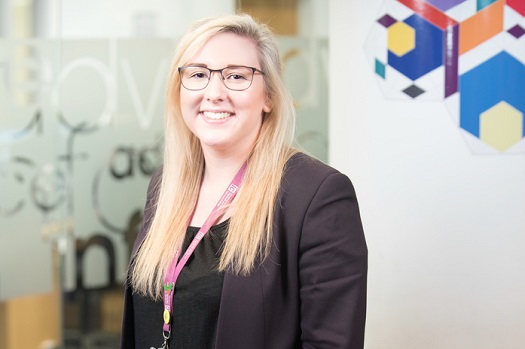 Inverness College UHI has joined forces with Developing the Young Workforce and Skills Development Scotland to present the Highland Apprenticeship Showcase, which runs from 4pm to 7pm, as part of Scottish Apprenticeship Week (4th to 8th March).
The Highland Apprenticeship Showcase coincides with the Inverness College UHI Curriculum Open Evening, giving people the opportunity to explore the range of apprenticeships available, find out how they work and meet employers looking for new recruits, as well as speak to lecturing staff about courses starting this August and September at Inverness College UHI.
Apprenticeships offer an alternative route into employment, allowing people to work, earn, gain valuable experience and study for a recognised qualification, all at the same time.
The Highland Apprenticeship Showcase follows a closed event for S3 pupils earlier in the day. Secondary schools from across the Highlands have been invited to attend the day event, which will see pupils explore the world of apprenticeships, meet employers and take part in a series of hands-on interactive activities designed to encourage them to think about a vocational pathway during and after they leave school.
Pupils will also hear from Zoe Milne, a former Inverness Royal Academy pupil, who started a life science apprenticeship with Lifescan after leaving secondary school with 4 Highers at Bs and Cs. On completing the two-year programme, Zoe was offered a job in clinical operations, working her way up to a clinical research associate, designing clinical trials and travelling all over the world. Now the 27-year-old works in quality engineering, supporting manufacturing operations at Lifescan.
"I feel very lucky to have been given the opportunity to complete an apprenticeship," she said. "I have had an amazing career and some fantastic experiences so far as a result of it. I was fortunate to be able to continue my studies part-time through work after my apprenticeship and completed my degree in 2018. The university pathway is not right for everyone and I believe you can be just as successful by taking the apprenticeship pathway."
The apprenticeship family includes foundation, modern and graduate apprenticeships and Inverness College UHI and its partners across the University of the Highlands and Islands provide all three, across a range of subjects. Foundation apprenticeships are aimed at senior secondary school pupils who choose, as part of their option choices, the opportunity to study for sector specific qualifications at college one day per week, combined with work experience. Modern and graduate apprentices are employed to undertake a job role, with most attending university to gain practical and academic qualifications. They work, earn and learn at the same time, combining employment with study right up to honours degree level. Employers can also get government help to pay for training costs of apprentices aged 16-24, with contributions available for older apprentices in some industries.
Georgina Parker, director of external relations at Inverness College UHI, said: "We work closely with employers across the region, from initial enquiries about taking on an apprentice, recruitment and shortlisting potential candidates to advice, support and guidance throughout the duration of their training programme. We are delighted to be working alongside our employers at this event to showcase the world of apprenticeships and help them recruit to vacancies they have across the Highlands and Islands right now. As well as exploring the apprenticeship route, people will also be able to speak to curriculum staff to find out about full-time, part-time and distance learning courses starting at Inverness College UHI from August/September as part of our Open Evening."
Andy Maxtone, programme manager, DYW Inverness and Central Highland, said: "This year's Highland Apprenticeship Showcase represents a fantastic opportunity to join forces with Inverness College UHI and Skills Development Scotland to provide a platform through which to facilitate conversations between young people and prospective employers. There has never been a better time to consider an apprenticeship. For young people, it provides the immediate opportunity to enter the workforce and gain recognised qualifications while also enjoying the financial freedom and independence that comes with combining earning and learning. For employers, apprenticeships help fill skills gaps and safeguard industries for the next generation – which is particularly important in the Highlands. The event will showcase valuable insights into the day-to-day role of an apprentice as well answer any questions young people considering this career path may have."
Gillian Unger, team leader, Skills Development Scotland, said: "Skills Development Scotland is delighted to be supporting the Highland Apprenticeship Showcase event which offers an exciting opportunity for young people and adults to appreciate the range of great work based learning opportunities in the Highlands. They will be able to explore the various types of apprenticeships first hand, whilst gathering a greater understanding of the wealth of employers in the region."
There are more than 100 different apprenticeships available, tailored to fit different job roles. Inverness College UHI currently training to up to 650 modern apprentices every year, across an increasing range of sectors including automotive, aquaculture, business, construction, creative industries, electrical installation, engineering, forestry, financial services, hairdressing, hospitality, life sciences and plumbing. The university also offers a graduate apprenticeship in civil engineering allowing people to study up to honours degree level, with a new graduate apprenticeship in early learning and childcare due to start later this year.
Find out more about about apprenticeship opportunities.