Inverness College UHI wins industry award from Tilhill Forestry
AN Inverness College UHI student is celebrating after winning a prestigious award from Tilhill Forestry.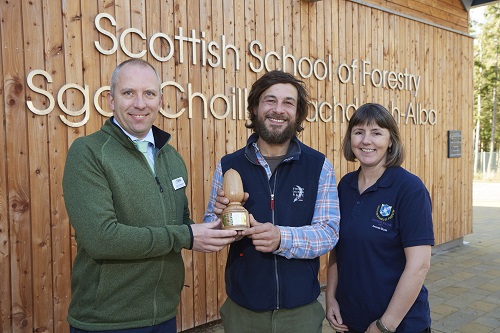 Ryan Assal, who is in the third year of the University of the Highlands and Islands' BSc (Hons) in Forest Management, won the Tilhill Forestry Award for Best New Planting Application following a report he prepared on woodland creation in his forestry policy and law module.
The 33-year-old was presented with a specially carved wooden trophy in the shape of an acorn by Tilhill Forestry's Julian Hollingdale at Inverness College UHI's Scottish School of Forestry at Balloch.
As part of its works to strengthen links with future foresters, Tilhill Forestry presents awards to top performing students at universities in the UK which offer degrees in forestry-related subjects.
Ryan was tasked with developing a woodland creation operational plan for a hypothetical site near Evanton, similar to the plan most foresters will complete when trying to access grant funding for new woodland projects.
Ryan, who lives in Beauly, said: "I am over the moon to win this award. I wasn't the most academic in school, but I always loved being outside. I've finally found a career path I'm really passionate about so it's such an honour to be recognised in this way by a company like Tilhill Forestry."
Julian Hollingdale, Tilhill Forestry's North Highland District Manager, said: "It's great to see students like Ryan excelling in their studies and learning important skills such as how to draft a woodland creation plan. We run an awards programme with a number of universities across UK and Tilhill has a long association with Inverness College UHI. It's an excellent university and some of our past and present employees have studied there. I was delighted to be able to present this prestigious award."
Amanda Bryan, head of the Scottish School of Forestry and programme leader for the BSc (Hons) in Forest Management, said: "The Scottish Government has a target of creating 10,000 hectares of new woodland every year. Foresters regularly work with land owners and managers to develop proposals to create new woodland and completing this kind of mock application is exactly the kind of work they will be doing when the leave university. Ryan has found his future at the Scottish School of Forestry and we are all incredibly proud of what he has achieved, developing a plan which was first class in terms of quality and content."
Tilhill Forestry Ltd, a wholly owned subsidiary of the BSW Timber Group was established 70 years ago. It is a national company operating from a network of offices throughout the UK. The company provides a full range of consultancy and contracting services to the forest owner and forestry investor. Further information is available at www.tilhill.com
BSW is the most technologically advanced sawmill company in the UK employing over 1,300 people. The Company's roots date back to 1848, and with seven sawmills in the UK and one in Latvia, has a production capacity of more than 1.2 million m3 of sawn timber which is distributed throughout construction, fencing and landscape markets www.bsw.co.uk
Together, BSW and Tilhill Forestry form a strong partnership in the forest industry that will deliver quality from beginning to end - from creating new forests through to producing timber end products.
ENDS
For more information, please contact Helen Aird, Marketing and PR Officer, Inverness College UHI at Helen.Aird.ic@uhi.ac.uk or telephone 01463 273315/07584616252.