Life saving equipment for Inverness College UHI childcare centre
The Early Learning and Childcare Centre at Inverness College UHI now has its own life-saving defibrillator thanks to a generous donation from a city business man.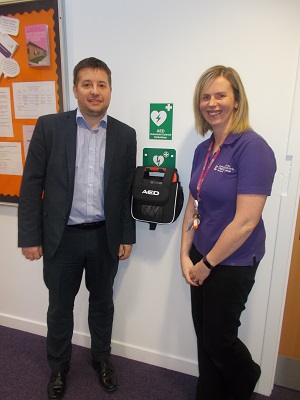 Staff at the centre have been fundraising since September to raise money for the paediatric-approved defibrillator, which can be used to deliver a high energy electric shock to the heart if someone is in cardiac arrest.
Fundraising events included a family fun day with treasure hunt for parents and children who attend the centre.
However, it was a donation of £150 by Inverness business man Martin Roy and his company Ptarmigan Homes which enabled staff to go ahead and purchase the life-saving equipment from the NHS.
Early Learning and Childcare Centre manager Cat Mackenzie said: "Even though there's a defibrillator at Inverness College UHI and another installed by the central walkways of the lochans at Inverness Campus, we realised that vital minutes could be lost if staff had to run out of the centre to get one in the event of an emergency. These minutes could be the difference between life and death and we knew we needed our own here in the centre. It's also specially designed for use on children.
"Martin's donation was really significant because if we hadn't received it, we might still be fundraising. We just want to say thank you to all the parents who supported this fundraising appeal. We know money is tight, particularly at this time of year, and we really can't thank them enough."
Mr Roy, managing director of Ptarmigan Homes, said: "As soon as I found out staff at the Early Learning and Childcare Centre were fundraising for a defibrillator I really wanted to help them get to their target. It is an essential piece of equipment and could just save a young person's life. Now they have this defibrillator, it means any extra money they raise can be used to buy things for the children's development. My daughter Isabella (3) also attends the centre so it's something close to my heart."
All staff at the centre recently underwent a paediatric first aid certificate refresher exam, which included how to use the defibrillator.
The Early Learning and Childcare Centre at Inverness College UHI was rated 'Very Good' by the Care Inspectorate in March 2017. It provides childcare to staff and students, as well as the general public. It caters for children 0-5 and offers full-time, part-time and sessional day care. The centre is open 8.15am to 5.15pm, Monday to Friday, term time only.
For more information contact the Early Learning and Childcare Centre on 01463 273 549 or email ICChildcare.Centre.ic@uhi.ac.uk