Scottish School of Forestry student wins Tilhill award
A STUDENT from the Scottish School of Forestry at Inverness College UHI is celebrating after winning an award from leading forestry management and timber harvesting company Tilhill.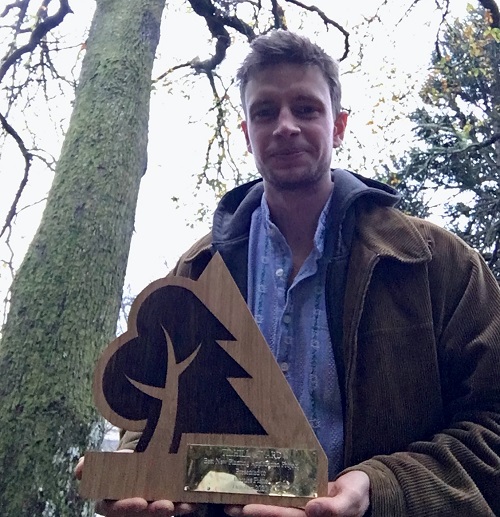 Jacques Fiette, a 3rd year BSc (Hons) Forest Management student, won the Tilhill Award for Best New Planting Application following a report he prepared on woodland creation in his forestry policy and law module earlier this year.
The 23-year-old was presented with a specially carved wooden trophy by Tilhill's North Highland District Manager, Julian Hollingdale, during a virtual awards ceremony earlier this month.
As part of the company's work to strengthen links with future foresters, Tilhill presents awards to top performing students at universities degrees in forestry-related subjects across the UK.
Jacques was tasked with developing a woodland creation operational plan for a former agricultural site in the Highlands, similar to the plan most foresters will complete when trying to access grant funding for new woodland projects. He proposed a productive hardwood scheme, which addressed resiliency to the impacts of climate change.
Jacques, who works for Logie Timber, Forres, said: "The support and encouragement students receive from the Scottish School of Forestry is reflected through this award, which I'm very grateful and honoured to receive. This award is a great opportunity for students to be creative and research the multiple options for woodland creation available. It is also a good way of introducing students to using official documents and layouts, as well as showing the amount of research required. I am honoured Tilhill took interest in my plan, which is a good sign that a such a leading company is constantly innovating their production methods and seeking alternative silvicultural practices for the UK."
He continued: "I have spent most of my life in the French Alps, where I developed a love for the outdoors and a special attraction to all things wood. The Scottish School of Forestry has proven to be an ideal place for me to discover everything about the industry in the UK. I am delighted I made the decision to move to Inverness to study forestry."
Julian Hollingdale, Tilhill's North Highland District Manager, said: "In order to tackle climate change the Scottish Government has set out ambitious woodland creation targets and are operating with a very supportive tree planting agenda. Through the forestry grant scheme, Scottish Forestry offers a number of grant options for woodland creation and it is great to hear that over the last few years we are planting more and more trees.
"However, like many other land-based sectors, forestry has a general shortage of skilled people and, combined with an ageing workforce, we need to attract and retain more young people. In order to achieve these planting targets, we will need graduates and it is great to see students such as Jacques with such a sound understanding of Scottish policy and the woodland creation application process. I was genuinely impressed by the quality of all the submissions that I saw, it was a difficult decision, but Jacques' application stood out.
"At Tilhill we run an awards programme with a number of universities across the UK and it is pleasing that we have such a long association with the Scottish School of Forestry. I would encourage the students to consider applying for our graduate programme which opens next month."
Amanda Bryan, programme leader for the BSc (Hons) Forest Management, said: "The basis of the assessment is the production of an operational plan which forms part of every new Woodland Creation Forestry Grant Scheme application and is exactly the kind of task that our graduates will take on as they move into industry working for companies like Tilhill. This demonstrates the contextualised education that we provide at the Scottish School of Forestry and we are grateful to partners like Tilhill, who work with us to achieve this and support our students through such a fantastic award.
"Jacques was a well deserving winner of this year's award. He proposed a productive hardwood scheme for the site that we use which was a creative use of the site while addressing the need to make our forests more resilient to the impacts of climate change."
Tilhill, a wholly owned subsidiary of the BSW Timber Group was established 70 years ago. It is a national company operating from a network of offices throughout the UK. The company provides a full range of consultancy and contracting services to the forest owner and forestry investor. Further information is available at www.tilhill.com
BSW is the most technologically advanced sawmill company in the UK employing over 1,200 people. The Company's roots date back to 1848, and with seven sawmills in the UK and one in Latvia, has a production capacity of more than 1.2 million m3 of sawn timber which is distributed throughout construction, fencing and landscape markets www.bsw.co.uk
Together, BSW and Tilhill Forestry form a strong partnership in the forest industry that will deliver quality from beginning to end - from creating new forests through to producing timber end products.
Watch the 15-minute online award presentation, below: https://www.youtube.com/watch?v=fviKvLRDLDk