Students become the first in Scotland to complete a Graduate Apprenticeship (GA) at Honours Degree level
STUDENTS studying civil engineering at the University of the Highlands and Islands have become the first in Scotland to complete a Graduate Apprenticeship (GA) at Honours Degree level.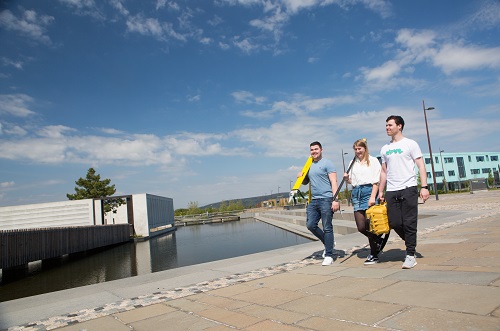 All five apprentices worked in the civil engineering industry, earning a wage and attending block release at Inverness College UHI. They complete their Apprenticeship with an honours degree, vocational qualifications plus six years of industry experience.
Five years ago, the University of the Highlands and Islands became the first university in the the country to develop and pilot a GA in Civil Engineering at Inverness College UHI, in partnership with Construction Industry Training Board.
Now, the College offers a Foundation Apprenticeship, Modern Apprenticeship, Higher Apprenticeship and Graduate Apprenticeship in Civil Engineering, providing a seamless work-based learning pathway right through from the senior phase of school to honours degree.
Having progressed through the Modern Apprenticeship and Higher Apprenticeship, five students graduated from the GA in Civil Engineering at BEng (Honours) level (SCQF level 10) this summer.
Throughout the COVID-19 restrictions, the Graduates Apprentices were able to continue both working and learning to achieve their qualification.
Programme leader Carrie Higgins said: "We are full of pride and admiration for what these students have achieved. Not only have they worked incredibly hard to complete the GA whilst progressing in their jobs, they've also played a crucial role in helping us shape the way we deliver the Higher Apprenticeship and the Graduate Apprenticeship for those now following in their footsteps.
"All five students have seen an increase in their professional and personal responsibilities over the last five years, with each now working in very responsible positions. Their commitment has been inspiring and we look forward to working with them again, as employer mentors for future apprentices."
Luke Fraser (24), from Inverness, works for RJ McLeod (Contractors) Ltd, having progressed through the Higher and Graduate Apprenticeship, completing the HNC, Diploma of Higher Education and then the BEng (Hons). Luke is now employed by the firm at sub-agent level and is keen to gain his Incorporated Engineering (IEng) professional qualification.
He said: "I would 100% recommend this route to anyone interested in becoming a civil engineer. I have gained crucial hands on site experience at the same time as academic knowledge - the teaching and support from lecturers has been excellent and being involved with construction sites has helped me massively by providing some key background knowledge to support my learning. I had always wanted a degree but never really thought it would become possible as I didn't have the grades on leaving school. I'm so happy with the way it's all panned out."
Andrew Bruce (29), from Aberdeenshire, works for Worley. He first completed his HNC in Civil Engineering and Structural Engineering, 10 years ago, before returning to Inverness College UHI in 2018 to complete his Graduate Apprenticeship. During his studies, he has also progressed from the role of structural technician to that of graduate structural engineer.
Andrew said: "I really liked the blended approach and the fact that we could use work-based evidence to complete the honours degree. Although I was working, I was also able to complete it in a comparable time to a full-time honours degree, unlike most part-time civil engineering degrees, which take two to three times as long. I have learned how to tackle challenges in the workplace and approach problems from a new angle by using problem-solving techniques developed on the course. As a result, my work is now more organised at the outset and methodical. I have gained knowledge and understanding of many principles and theories through learning, that I can now transfer to the workplace.
"I cannot recommend an apprenticeship highly enough. You not only gain work experience whilst studying, but you also gain employment from the outset. I wish Graduate Apprenticeships were being run years ago, they are simply a great opportunity and a huge benefit. I am very excited and pleased to be amongst the first Graduate Apprentices at Honours degree level in Scotland."
Luke McAllister (25), from Inverness, works for BAM Nuttall. He has progressed through from HNC level to complete the Graduate Apprenticeship.
He said: "It has been great, on site work was complemented by teaching, and vice versa, giving me a much better understanding. The Graduate Apprenticeship has provided me with an excellent platform to pursue a successful career in civil engineering, and I'm looking now to become an Incorporated Member of the Institute of Civil Engineers. I am very proud and relieved to have completed it – the teaching and support received has been excellent, especially during the COVID-19 pandemic, which could have posed problems had it now been for the ingenuity of the staff."
Angela Rae, design management engineer and training supervisor for RJ McLeod (Contractors) Ltd, said: "Not everyone wants to go to University straight away and they may not have the grades. The Graduate Apprenticeship programmes allows a student to experience the job, and to decide if they enjoy it and want to progress in that profession. As a company, we have a responsibility to train our engineers and encourage young people into the industry. We have worked with Inverness College UHI for the last 15 years. The course provides our engineers with a good educational base and allows them to obtain valuable work experience at the same time. We are able to train the apprentice in our own health and safety, quality and environmental procedures as they progress and ultimately we end up with an experienced engineer, who now also has a high level of educational studies to accompany this."
Inverness College UHI currently works with a number civil engineering employer partners including Aberdeenshire Council, Advance Construction, AE Com, Allan Gordon, Arch Henderson LLP, Balfour Beatty, BAM Nuttall, Cameron & Ross, D Mackay and Sons, ESP, Fairhurst, Farrans, Forestry & Land Scotland, Global, Highland Council, HGA, IDOM Merebrook, Jones Bros, John Gunn and Sons, Moray Council, Morgan Sindall, Mott MacDonald, PAT Munro, RJ McLeod (contractors) Ltd, Springfield Properties, Western Isles Council and Worley.
Graduate Apprenticeships have been developed by Skills Development Scotland (SDS) with support from the European Social Fund in partnership with employers, universities and colleges and professional bodies to create stronger links between education and industry. Graduate Apprentices' learning costs are funded by SDS.
Diane Greenlees, SDS Director of Critical Skills and Occupations, said: "The University of Highlands and Islands recognises the importance and value of work-based learning and is playing an important role in helping individuals and businesses to benefit from it through apprenticeships.
"Graduate Apprenticeships have increased opportunities for people to access work-based learning and enable employers to develop their workforce to meet current and future skills needs."
Inverness College UHI also offers a Graduate Apprenticeship in Early Learning and Childcare. Now one of the largest college providers of Apprenticeships in Scotland, the College also offers Foundation and Modern Apprenticeships across a broad range of sectors, with over 300 apprentices in the construction industry alone.
For more information about apprenticeships, speak to our business solutions team by emailing business.ic@uhi.ac.uk