Students design merchandise for the University of the Highlands and Islands
STUDENTS have risen to the challenge of designing new merchandise for the University of the Highlands and Islands.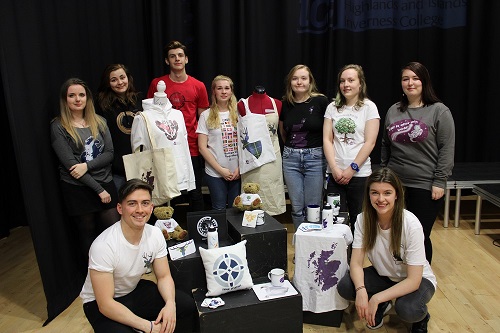 HND Visual Communication students at Inverness College UHI were tasked with creating new design concepts, which showcased the region and the student experience in the Highlands and Islands.
The students were supported by the marketing and graphic design team at the university to ensure the new merchandise complemented the existing brand.
A small sample was then manufactured with support from the Rebel Fund, donated by Prickly Thistle owner Clare Campbell to enable students at the university to 'disrupt thinking' in the creative industries.
The students came up with a range of concepts, from the traditional image of the region and its geography to ones that represent the scientific and technological advances in local industry and the opportunities that exist for young people.
While the brief was set as a learning experience for the students - representing the type of brief they could expect to work on when graduating - the university hopes it is the starting point for a bigger project, which could see students selling their own products and services via an online university shop.
Clare, who visited Inverness College UHI to meet and view the students' work, said: "I am delighted that the Prickly Thistle Rebel Fund has allowed the students to make that final step from the design stage to having their products produced. Our company ethos is design and manufacture locally and this project has allowed students to do just that. It is a pleasure to support the University of the Highlands and Islands and its students in this way and I would urge others to do what they can to support the next generation."
In addition to establishing the Rebel Fund, Clare is a regular donor to the university, one of a growing number of local businesses kindly contributing to scholarship and student development funds, which provide financial support to students who need help to continue their studies or to take advantage of development opportunities. Clare also worked with BSc (Hons) Architectural Technology students at Inverness College UHI last year, setting them the challenge of designing plans for her new Black House Mill, on the Black Isle, which she now plans to build. The students' designs have already been granted planning permission and are going through the building warrant stage. She hopes to have the build completed by next summer.
Alison Woodside, programme leader for HND Visual Communication, said: "Our Visual Communication programme is highly practical, so we work with real clients to generate the types of briefs students can expect to work on when they complete their studies. This one was particularly exciting for the students as they were designing potential products for their own peers. The students took on feedback from the university and came up with a whole range of concepts, which, thanks to Clare and her Rebel Fund, they've actually been able to see come to fruition as a completed product, which has been a particularly rewarding experience for them."