Dr Mandy Haggith
content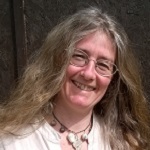 Email: mandy.haggith.ic@uhi.ac.uk
Inverness College UHI
1 Inverness Campus
Inverness
IV2 5NA
Dr Mandy Haggith is a lecturer in creative writing and literature at Inverness College UHI. She has two decades of experience of professional work as a writer and 11 published books (5 novels, 4 poetry collections, a poetry anthology and a non-fiction book). She specialises in nature writing and environmental and historical story-telling. She teaches creative writing with further education students, on all four years of the Creative Writing BA and the Literature BA and at masters level. She also supervises research students and is open to supervision requests.
Her current research projects include a Carnegie Trust-funded creative inquiry, The Liminal Zone, exploring the seashore as a metaphor for the interface between creative practice and academic work.
She is also the lead researcher on the Wild Words project, currently funded by Scottish Forestry, carrying out poetic inquiry into woodland expansion. For the past decade she has led the A-B-Tree project, focused on creative writing about trees.
Mandy's main research interest is the use of innovative creative practice research methodologies, especially as applied to questions of land and environmental management. She is one of the founders of a group of researchers in UHI interested in A/R/Tography, exploring synergies between Art, Research and Teaching activity.
Before joining UHI in 2018, her career included research (and a PhD) in Artificial Intelligence at Edinburgh University, and twenty years of forest research and activism, including co-ordination of an international network of activists for sustainable paper. She lives on a coastal wooded croft in Assynt in the northwest highlands and is a very keen sailor.
Full research profile for Dr Mandy Haggith can be found here: Mandy Haggith — University of the Highlands and Islands (uhi.ac.uk)