Rosemary Newman
content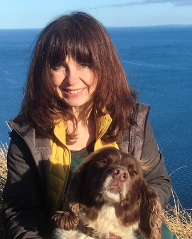 Email: Rosemary.Newman.ic@uhi.ac.uk
Inverness College UHI
1 Inverness Campus
Inverness
IV2 5NA
Rosie has been teaching FE and HE at Inverness College UHI for seventeen years. She teaches as a Lecturer in Art and Design and in Supported Education. She studied Fine Art at Camberwell College of Arts, University of the Arts, London, specialising in sculpture and installation and her Master's degree is in Art and Social Practice, Shetland College UHI and TQFE from Stirling University.
Rosie is a multidisciplinary artist who uses a variety of materials, technologies and methods in her work to help connect people, phenomenologically, psychologically, or aesthetically to nature and to place. Recent artworks include an installation of handmade bird nests that tweeted human 'voices', a suspended sailing boat that projected recordings of women humming and a performance event involving stargazing in an abandoned skiff on a shoreline.
Rosie was awarded the UHI Research and Scholarship Scheme 2018, which enabled her to study local culture at Art Point Gumno, Centre for Art and Sustainability in rural Macedonia. This inspired an investigation into how new technologies could be used as creative tools to promote sustainability, enhance wellbeing and bring people closer to nature. In 2018 she collaborated with a gaming company to create an immersive art installation using audio, painting and VR. This aimed to reconnect people with the natural local landscape that existed before the UHI campus was built and right up to the present day. This was exhibited at Inverness College, UHI Staff Conference 2019. A paper about this work was published in Relate North: Collaborative Art, Design and Education 2019.
Her current work involves researching the connection between her hometown of Cromarty and the sea and she is presently submerging steel plinths in the harbour to explore the alchemistic play of the air, moon, sun and the surge of the sea on the surfaces of the metal.