UHI Inverness students honoured at graduation and celebration ceremony
STUDENTS celebrated their academic achievements with friends, family and staff at the UHI Inverness Graduation and Celebration of Success and Achievement on Friday.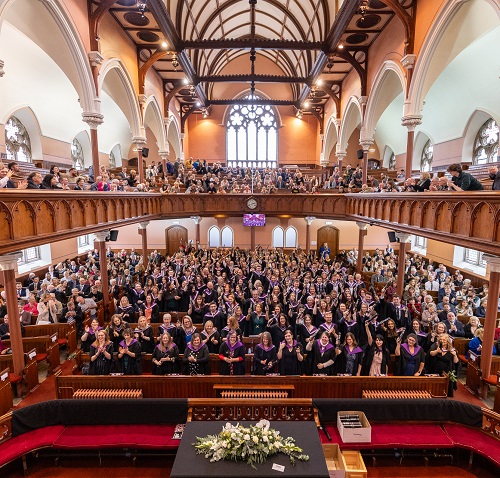 Amongst the 300 students who attended the two ceremonies at the Free North Church in Inverness was public health expert and distinguished academic Professor Sir Jonathan Van-Tam who graduated with a Postgraduate Certificate in Leadership and Management after enrolling as an online student in 2016.
Sir Jonathan, who was also the guest speaker at the afternoon session, told his fellow students:
"Today is a very special ceremony for you, and for me. In my case I was a bona fide member of the UHI Inverness student body and today I join an ever growing, global alumni community; I am also profoundly honoured to have been bestowed an Honorary Doctoral degree. This all means so much to me."
When he became interested in furthering the leadership aspect of his career, Sir Jonathan looked around for an online qualification and chose UHI Inverness because it offered a flexible workload.
He said: "It felt like the right place, and it hasn't disappointed in any way. I have been the world's worst student. One year after I enrolled in 2016, I was seconded to the Department of Health and Social Care as Deputy Chief Medical Officer for England. The hours were long; the daily commute from Lincolnshire was arduous on top, and studying became very difficult. I had to suspend my studies. I didn't know when I could return to them.

"Next came the pandemic, 16-hour days, 7-day weeks. I lost hope of finishing my course. In early 2022 when I finally stepped down as Deputy Chief Medical Officer, I was exhausted, and reluctantly and regretfully handed in my resignation from the course at UHI Inverness.

"This was defeat – I had never quit before. Nicola MacDonald and her team here at UHI Inverness were having none of it! 'Yes, you can finish, and you can still complete a Postgraduate Certificate. Just do one more module…you can succeed.' I agreed with some trepidation. But my lecturer David Jack made a difficult subject deeply engaging, and here I am now."
During the ceremony Sir Jonathan received an Honorary Doctorate from UHI in recognition of his leadership, communication and service during the Covid-19 pandemic.
Professor Brian Williams said: "Standing at No 10 during the pandemic we saw his warmth, his integrity, his caring, his understanding of people and where they were at and the need not only to meet them there but to be with them in that place."
It was the first time UHI Inverness had held its ceremony at the Free North Church and approximately 900 people attended. Students celebrated success in a range of higher education qualifications including Higher National Certificates, Higher National Diplomas, Degrees and Postgraduate programmes.
The morning guest speaker Sarah Rankin, a MasterChef 2022 finalist and a marketing agency owner, told the gathering:
"Continuing to learn means you continue to grow as a person. Because when you focus on you - challenging yourself to be better and do better - you become a better person. And that's better for everyone. So today, celebrate the learning you have done, and the learning that's still to come."
Carol Sutherland, the Marketing and Communications Manager at UHI Inverness, has been in charge of organising graduation ceremonies for more than 20 years. She took a break from running Friday's celebration behind the scenes to take to the platform to receive her own scroll after gaining a Postgraduate Certificate in Leadership and Management with distinction.
Carol said: "It was great to be able to share this moment surrounded by my supportive colleagues, who do so much work in the background to ensure the day is a big success. Seeing the event from both sides has underlined how important it is for us to celebrate and recognise the achievements of the students we teach and support."

Professor Chris O'Neil, Principal and Chief Executive of UHI Inverness, told the students: "What you have learned and the qualifications you have gained at UHI Inverness will change your lives and open up doors for you. The friends you've made and the lecturers who've inspired and influenced you will have a lasting effect. You are now equipped with knowledge, skills, and a sense of purpose that will serve as the foundation for your future. We expect great things from you."
A number of special prize winners were honoured during the event. Certificates were presented to Nadia Johal, the Overall UHI Inverness Student of the Year and Apprentice Student of the Year, as well as to Postgraduate Student of the Year winner Carla Lees and the Senior Phase Student of the Year, Ryu Hernandez.
Jamie Mackintosh was presented with a Certificate of Merit on behalf of the Institution of Civil Engineers for being the best student to complete the Civil Engineering degree at UHI Inverness this year. Niamh Murray received an Engineering in Excellence Award which recognises a student who has excelled at both further education and higher education levels.
Elizabeth Keegan, Your Student Association president at UHI Inverness, said: "I was super excited to attend the ceremony to celebrate the achievements of our students, personally congratulate them and wish them all the best for their bright futures."
The event was followed by a celebratory reception at Inverness Campus. Visit our social media channels @UHIInverness for lots more photos.