UHI launches new Gaelic Language Plan
Staff and students gathered in Inverness today (Tuesday 7 November) to celebrate the launch of the University of the Highlands and Islands' new Gaelic Language Plan. The document, UHI's fourth Gaelic plan, was unveiled at a lunchtime event held at UHI Inverness.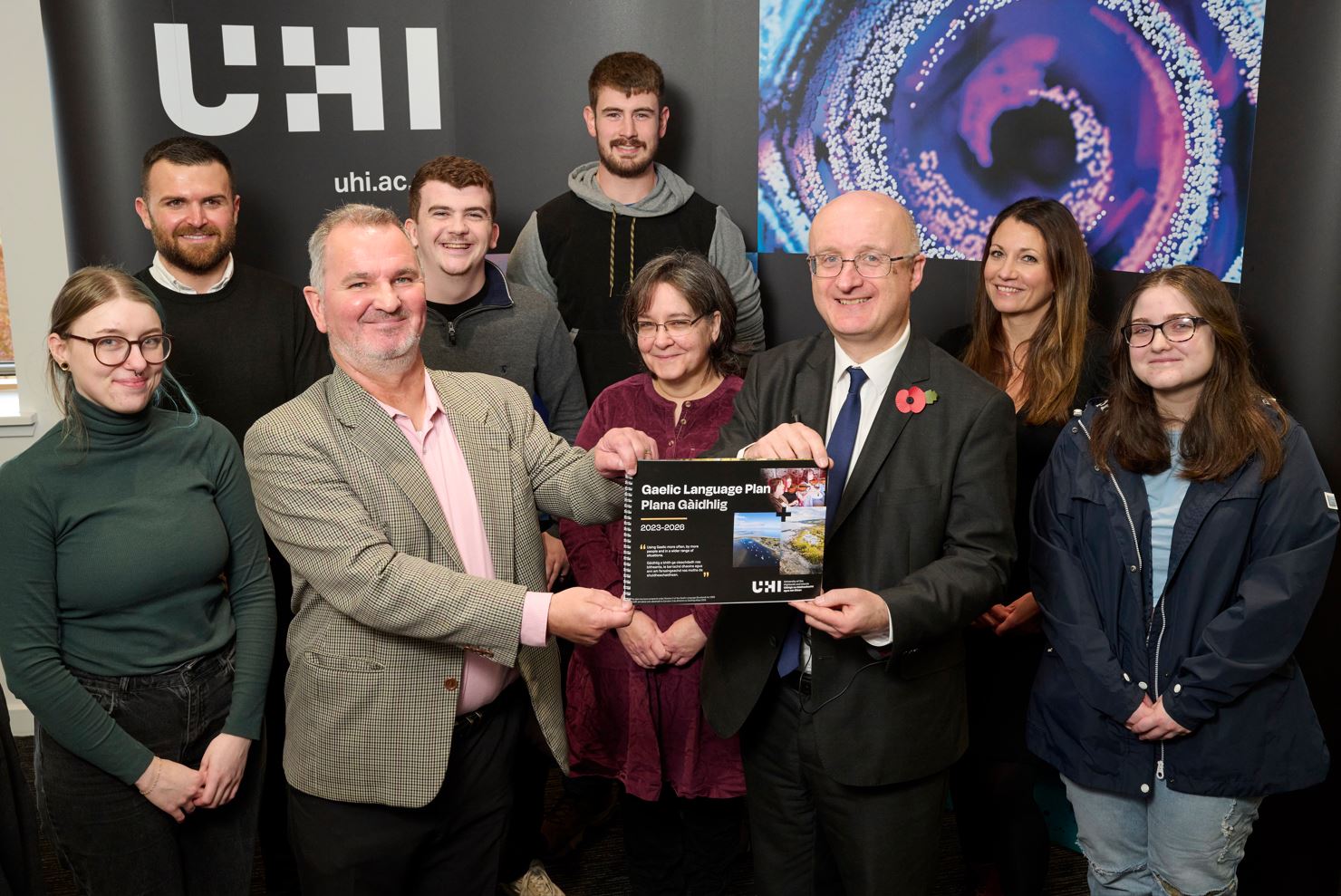 The new plan sets out UHI's ambition for Gaelic to be used "more often, by more people in a wider range of settings." It details a range of activities to help:
Increase the status, visibility and use of Gaelic throughout UHI
Provide opportunities for staff and students to learn Gaelic
Engage with Gaelic-speaking and Gaelic-learning communities
The plan aims to build on the achievements made under UHI's previous plans. During the 2019 to 2022 plan, UHI developed its Gaelic curriculum and research, held Gaelic awareness sessions and ran Gaelic conversation circles. New commitments include facilitating a Gaelic mentoring scheme, setting up online conversation classes for local communities and developing new Gaelic education and teaching courses.
Members of the public are being invited to find out more about the plan by attending a free event at Café Ness by the Cathedral, Inverness, from 7pm to 9pm on Tuesday 14 November.
Vicki Nairn, UHI's Interim Principal and Vice-Chancellor, explained the importance of the plan: "As the only tertiary institution with extensive reach across the Highlands and Islands, Moray and Perthshire, we are proud of our responsibility to enhance the status of Gaelic.
"Our latest plan articulates a renewed determination to continue our work in strengthening the position of Gaelic across our partnership. Aligned with our strategic plan, it also highlights our commitment to champion Gaelic language and culture in our communities through curriculum, research and student experiences.
"We are excited to launch our new plan and to restate our desire to make a significant contribution to the place of Gaelic within Scotland as a dynamic, living and vibrant language."
Ealasaid MacDonald, Ceannard, Bòrd na Gàidhlig, said: "We're glad to see this fourth edition of the UHI Gaelic Language Plan and the commitments within it, which will build on the work UHI has done over the past 13 years to embed Gaelic in its work and teaching."
Professor Neil Simco, UHI's Deputy Principal Academic and Research, added: "Gaelic is an important part of the life and work of UHI and as such I am delighted that today we are launching our fourth Gaelic Language Plan. We will continue to connect both with traditional Gaelic speaking communities and with Gaelic learners at all levels. Our ambitious new plan emphasises the importance of our Gaelic curriculum, including our contribution to Gaelic medium teacher education. It also places emphasis on our research programme into Gaelic matters, as well as committing to increasing the use and profile of Gaelic in our day-to-day work."
UHI's Gaelic Language Plan has been prepared in line with statutory criteria set out in the Gaelic Language (Scotland) Act 2005 and included public consultation. It was approved by the national Gaelic development agency, Bòrd na Gàidhlig, in July. View and download the plan. Printed copies are also available on request.
Find out more about UHI's Gaelic event on Tuesday 14 November
Any questions about the plan can be directed to UHI's Gaelic officer, DJ MacIntyre, at communications@uhi.ac.uk.