Civil Engineering
content

A breakdown of the qualification and course content content
A breakdown of the qualification and course content
A breakdown of the qualification and course content
What exactly is a Foundation Apprenticeship and what is it worth?
Foundation Apprenticeships consist of groups of qualifications which are comparible to a Higher and are very recognisable in industries. The main qualification in the award will usually be a National Progression Award or a National Certificate at level 6.
In most of our Foundation Apprenticeships you will also complete some SVQ units while in your work placement. SVQs are a work based qualification which allows individuals to demonstrate their competency by providing written and other forms of evidence.
Depending on the course, you might complete work which could be considered as comparable to more than one Higher but this is normaly assessed on an individual basis by the university or college you apply to.
We explain this further in the section which explains progression routes.
Course units content
Course units
Course units
Year 1
| Units | Description |
| --- | --- |
| Civil Engineering Technology Year 1 | This unit is suitable for candidates who aspire to a career in the construction industry or related fields as a technician or technologist.You will gain an understanding of the development of a major construction project from the initial site work through to the completion of the skeleton frame of a building. |
| Civil Engineering Materials | This unit will introduce you to knowledge of properties, production of and testing of civil engineering materials. On completion you will have a basic understanding of civil engineering materials and some practical experience of testing them. |
| Mathematics: Craft 1 (embedded) and Mathematics for Construction Technicians | This unit will develop your understanding of Mathematics at SCQF level 5 with a view to supporting and underpinning your studies in an engineering discipline. You will develop your skills in numeracy, geometry, graphical communication, trigonometry and algebra, and to apply these skills in the appropriate engineering context. |
| Civil Engineering Site Work | This unit will develop your knowledge of the factors involved in developing and preparing a site for various types of construction projects. You will develop an ability to understand the reasons for providing security measures, adequate on site and access routes, material storage areas, the safe working methods and equipment used for earthmoving, concreting and lifting operations. |
| Drawing for Construction | This unit will introduce you to a range of construction drawings. You will confidence in the production of sketches, basic manual drawing techniques and the interpretation of construction drawings. |
Year 2
| Units | Description |
| --- | --- |
| Mechanics for Construction: An Introduction | The Unit introduces you to the basic principles of mechanics relating to construction and developing skills in completing calculations in relation to these principles. It includes the understanding of units and quantities in mechanics and their application to basic problem solving. You will look at forces, stress and strain, and their application in elements of structural analysis |
| Computer Aided Drafting: An Introduction | This is an introduction to the use of Computer Aided Drafting software to produce 2D construction drawings. The Unit is intended to develop your ability and confidence in the production and editing of simple construction drawings. It will also develop your graphical presentation skills ensuring they are able to communicate effectively with other members of the construction team. |
| Construction Site Surveying: An Introduction | You will be introduced to the basic principles of land surveying and the techniques adopted in the preparation of construction site plans. It includes the interpretation of data from site plans developed for individual construction projects and from Ordnance Survey (OS) maps and plans. You will carry out a practical survey using basic equipment to gather data that will allow the production of a site plan, contour plan and section. |
| Health and Safety in the Construction Industry | You will be introduced to safety awareness, hazard identification, safe working practices and occupational health issues associated with work in the construction industry. You will also gain a basic understanding of procedures to be followed in the event of fire or accident in the workplace. |
| Sustainability in the Construction Industry | This unit will introduce you to the basic principles of sustainability in relation to the construction, operation and demolition of buildings. You will become confident in the qualitative assessment of sustainability in relation to construction, and to develop his or her technical skills to be able to communicate effectively with other members of the construction team. |
| Civil Engineering Project | This Unit is suitable for candidates who have limited knowledge of Civil Engineering who wish to work in the field as technician, technologist or other construction professional. The Unit will develop the candidate's ability to apply knowledge, skills, effective self-study, research, report writing and presentation gained through study, to the production of a Civil Engineering project. |
Progression routes content
Progression routes
Progression routes
Applying to other universities
Skills Development Scotland had been working closely with universities and colleges to understand the ways that the Foundation Apprenticeship Award is considered in their admissions policies.
We have included the most up to date guides from Skills Development Scotland
Employer links content
Employer links
Employer links
Foundation Apprenticeships are designed in consultation with industries who are relevant to the subject.
This consultation continues throughout the yearly delivery of our Foundation Apprenticeship courses.
This can take the form of:
Classroom talks from key individuals in companies who participate in Foundation Apprenticeship placements.
Opportunities to showcase learning to various employers.
Challenges and projects set for Foundation Apprenticeships by employers.
Classroom vists from Modern and Graduate apprentices.
Vists to employers.
All employers who agree to provide placements are also approved by us and the local authority to have school children on their premises and they work closely with the Developign the Young Workforce Team at Inverness College UHI to support and observe the young person in the work placement.
"The range of subjects studied at college related to what I was doing in school, but it was different because they linked to how they are used in industry. The work placement with Morgan Sindall was the final piece of the puzzle for me. It went well and the company also gave me 4 extra weeks works experience as a 'chain boy' (someone who shadows a qualified Engineer)." - William Watts, ex Foundation Apprentice now working for Morgan Sindall.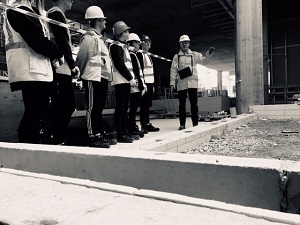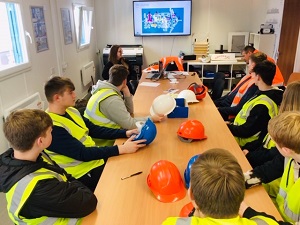 Robertsons Construction are committed to investing in young people and developing new talent.
In April 2019 our first year Civil Engineering Foundation Apprentices visited the site of the new Inverness Justice Centre to expeirence a live construction project. This was part of their module in Civil Engineering Site Work.
This is just one example of the oppotunities within the programme. Others include the chance to work on bridge building projects, mentoring other students and showcaseign work to employers. All this is in addition to the actual work placement.
How to apply content
How to apply
How to apply
Applications for Foundation Apprenticeships open in January each year as part of our wider schools programme application process. Dates are directly communicated to schools, and are also available on our website. Applicants can apply on our schools section until the closing date.
You can discuss an application or potential application with your guidance teacher at any time and request further information from the our schools team.