Geography
content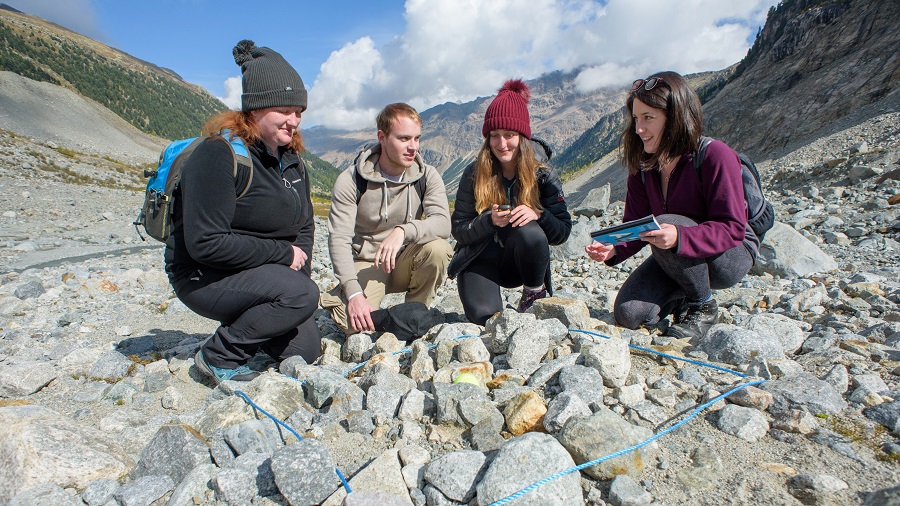 At local, national and international level, the main challenges facing the world in the 21st century are related to geography.
The impacts of climate change in the coming decades on countries and regions will be significant.
Adapting to flash flooding and drought; the security of water, food and energy supplies; and population growth, migration, loss of biodiversity and the spread of disease, are just some of the challenges we face.
It means geographers are in increasing demand as their skills are required to address the environmental, economic and societal challenges of the future.
Overall satisfaction rates for our BSc (Hons) Geography programme stand at 100% (National Student Survey, 2019)
So many of the world's current issues… boil down to geography… global warming… food and energy security… degradation of land and soils from over-use and misuse… spread of disease… consequences of migration… impacts of economic change on places and communities" - Michael Palin (2011)
Programme information content
Programme information
Programme information
On our BSc (Hons) Geography degree you will gain an insight into a range of practical, social, economic and enviornmtnal issues, studying both physical and human geography, with an emphasis on physical-environmental studies.
Physical geography covers climate, atmosphere, landscapes, natural processes, glaciation and energy use.
Human geography covers societies and their distribution and interaction, including sustainable development, urban and rural geography, population growth and globalisation.
In addition to learning core skills related to fieldwork, including GIS and remote sensing, preparing maps and diagrams and using social surveys, you will also develop a wide range of employability skills such as team working, problem solving, research and data analysis and communication and IT skills.
Other things to know:

There are no exams on this course - you are assessed by coursework only;

The course includes fieldwork trips in various locations in the Scottish Highlands and a week long field trip in the Swiss Alps*

There is a strong focus on employability, with a module on employability skills and a work placement in year three;
Students enjoy a mix of online learning and face-to-face teaching. Tutorials consist of small groups of students, who learn together on campus, supported by online materials, allowing you the flexibility to study whenever and wherever it suits you.
"Most geography graduates are numerate, literate, good team workers, can think analytically and critically, and are highly computer literate. Geography consistently attracts large numbers of high quality students with excellent grades," - Royal Geographical Society (2013)
Do you have more questions?
Contact BSc (Hons) Geography programme leader Dr Anne-Marie Nuttall.
Email: geography@uhi.ac.uk
Progression routes content
Progression routes
Progression routes
Careers our graduates go into:
Government departments and agencies e.g. the Scottish Environment Protection Agency, Environment Agency, Scottish Natural Heritage, English Natural Heritage
Planning departments of local authorities
Natural resource industries such as oil, gas, coal, aggregates
Water industry and flood management
Environmental consultancy
Waste and recycling
Travel and tourism
Public policy
Urban regeneration
Retail and business
Teaching
Many geography graduates also choose to go on to postgraduate study. Popular programmes at the University of the Highlands and Islands include:
MSc Sustainable Energy Solutions
MSc Developing Low Carbon Communities
MSc Sustainable Rural Development