Inverness College UHI hairdressing students support Tesco's Christmas Mission
HAIRDRESSING students at Inverness College UHI have handed over more than 80 Christmas presents to Tesco's Christmas Mission appeal to distribute to children in need in the Inverness area.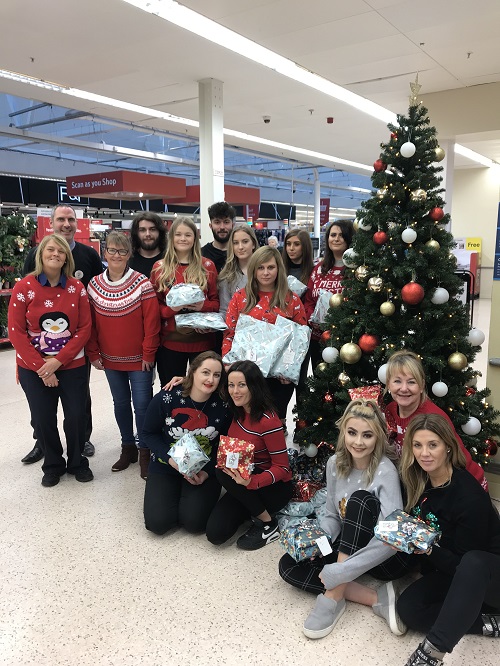 The students organised their own Christmas Coffee, Cake and Curls event at Inverness College UHI, where they showed staff, students and members of the public how to pleat, curl and style their own hair for Christmas.
Tesco supported the event by providing refreshments and cake.
The event raised more than £500, which the students used to purchase gifts for children aged 0 to 15.
The Christmas Coffee, Cake and Curls event was organised by the Level 2 students as part of their enterprise module. They came up with the idea themselves, organised the event including the raffle and purchased and wrapped the gifts.
Hairdressing student Rebecca Stockham (32) said: "We wanted to buy as many Christmas presents as we could for children in need in the Highlands, so we bought some items, like playdough, in bulk and then split up the contents to make hampers for some of the younger children. Everyone was really engaged in it because we knew we were doing something good for people who need it – and every child deserves a gift at Christmas. All the businesses we approached for sponsorship were so supportive and we had a great turnout from staff and students at the actual event, which hopefully they found really useful too."
Hairdressing lecturer Roz Bullard added: "It's important our hairdressing students develop core skills, and enterprise is part of that. Every year we challenge them to come up with an idea, which will have a positive impact. Not only did they raise enough money to purchase lots of presents for others less fortunate, they also learned problem solving, team work, budgeting and how to negotiate, recognising each other's strengths and weaknesses. I'm very proud of them."
Liz Sutherland, Tesco community champion, said: "Our appeal was set up to ensure children in the local area don't go without on Christmas Day. It's run in conjunction with our community food connection so we know all the presents stay local. I would like to say a huge thank you to the hairdressing students at Inverness College UHI for supporting our appeal."
The Level 2 students are due to progress to the Level 3 hairdressing course, which starts in January.