Inverness College UHI students create illustrations for Australian book publisher
AN innovative international collaboration between Inverness College UHI and a children's picture book publisher in Australia could see students offered an exciting publishing contract.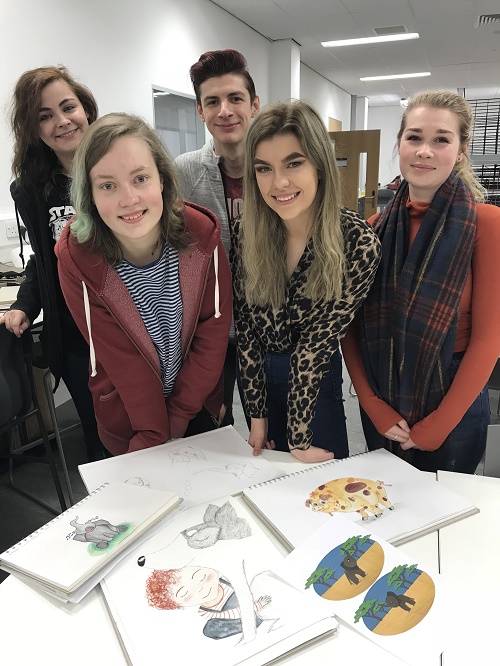 Little Pink Dog Books, based in New South Wales, has challenged students studying HND Visual Communication to create illustrations for a number of manuscripts it may publish.
As part of the project, the students have chosen a manuscript and are now working on their character development and initial storyboard concept.
The project, which is due to be completed by the end of the year, forms part of their coursework but there is an exciting potential for a student to be offered a full picture book illustration contract at the end.
Katie Pamment, an illustration lecturer at Inverness College UHI and practicing children's book illustrator, said: "The HND in Visual Communication is underpinned by strong links with industry, providing students with the opportunity to work on exciting 'real-life' design and illustration briefs, ensuring their learning remains current in a rapidly evolving industry.
This approach enhances the learning experience and effectively helps equip students with relevant core skills and knowledge, as well as providing them with experience of the demands and challenges of the contemporary and creative field of children's book publishing.
Simulated live industry briefs also help build confidence, encouraging students to forge links and further their own industry experience. I am particularly looking forward to seeing how the students' illustrative concepts develop over the project, and would like to thank Little Pink Dog Books for the opportunity."
When the illustrations are complete, the students' work will be reviewed by the authors of the individual manuscripts, as well as Little Pink Dog Books. The review will consider whether the student has interpreted the manuscript effectively, taking into account style and target audience.
If successful, the selected students' work could be published next year.
Kathy Creamer, a founding partner in Little Pink Dog Books and published writer and illustrator, said: "I am excited to be working with Inverness College UHI to provide real publishing opportunities for new illustrators wishing to enter the highly competitive world of children's picture books. Having seen some of the students work, I am confident that, with appropriate guidance, and once given the opportunity to develop and showcase their work, the best students will have the potential to become established illustrators in this exciting field."