Minister for Education visits Inverness College UHI
THE Scottish Government Minister for Further Education, Higher Education and Science visited Inverness College UHI on Friday to find out about work which has seen the College's attainment rates on full-time further education courses rise to among the best in the sector.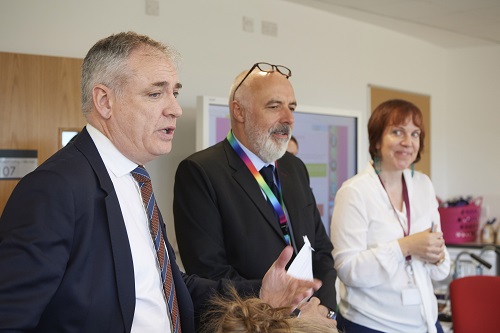 As part of his first round of visits as Minister for the sector, MSP Richard Lochhead also met Professor Chris O'Neil, principal of Inverness College UHI, members of the senior management team, and students to discuss work to widen access and help those from disadvantaged backgrounds access further or higher education.
This includes students distanced from education, care experienced students, carers, refugees, single parents and those with additional support needs.
Attainment rates on full-time further education programmes at Inverness College UHI have improved year-on-year for the last 5 years, with figures for 2016/17 almost 2.5 per cent above the college sector average, with further improvements expected when the 2017/18 figures are confirmed.
Inverness College UHI is one of 5 colleges involved in the Scottish Government's Improvement Project, which aims to improve retention and attainment for learners on full-time further education programmes.
Mr Lochhead heard about Inverness College UHI's work with Inverness High School and its associated primary schools to raise aspirations of young people from some of the city's most deprived postcodes. This involves working with P7 pupils right through to S6 to highlight opportunities available to them when they leave school and boost their confidence. Staff also discussed the College's work with third sector organisations like Barnados, Connecting Carers and Highland Council to support applications from students distanced from education.
Guidance support available at Inverness College UHI to help students succeed, including the work of the College's health and wellbeing service, which has led to Inverness College UHI being nominated for the Health Promoting College award at the CDN College Awards in October, was also highlighted to the Minister, as well as the College's work to support student carers, which saw Inverness College UHI become one of the first institutions in Scotland to receive the Carers Trust Going Higher for Student Carers Recognition Award.
Professor Chris O'Neil, principal of Inverness College UHI, said: "It was a pleasure to meet the Minister and highlight some of the work we are doing to widen access and narrow the attainment gap. Inverness College UHI – as a part of the University of the Highlands and Islands ­– is a success story for the Highlands and Scotland that must be celebrated and I am glad the Minister recognised our successes and is supportive of the fact that we are not only one of the most successful institutions for further education attainment within Scotland, the UHI partnership is also Scotland's biggest provider of apprenticeships, giving students and businesses opportunities to grow and develop using local talent."
Richard Lochhead, Minister for Further Education, Higher Education and Science, said: "I was pleased to have the chance to visit Inverness College UHI and hear how their concentrated effort to attract and support students from disadvantaged backgrounds has resulted in increased attainment across the board. We know that catering to a diverse student population with a wide range of learning styles can be challenging but Inverness College UHI shows the value of taking a targeted approach. That is why we are supporting the sector to make improvements to the college experience and tackle the attainment gap."
Earlier this year, Inverness College UHI delivered the Prince's Trust TEAM Programme, a national programme which aims to tackle youth unemployment by providing new skills and confidence to young people aged 16-25 not in education, employment or training. It is the first time the programme has been delivered in the Highlands, with all students from this year's programming going onto work or further study. Inverness College UHI also runs an Introduction to Further Education course in partnership with the Job Centre and New Start Highland, targeting people in long-term unemployment, and a range of Supported Education programmes for people with additional support needs.