Record participation in student survey at UHI Inverness unlocks cancer centre donation
UHI Inverness has presented a donation to local cancer support centre Maggie's Highlands following a successful survey campaign that achieved its highest ever number of responses.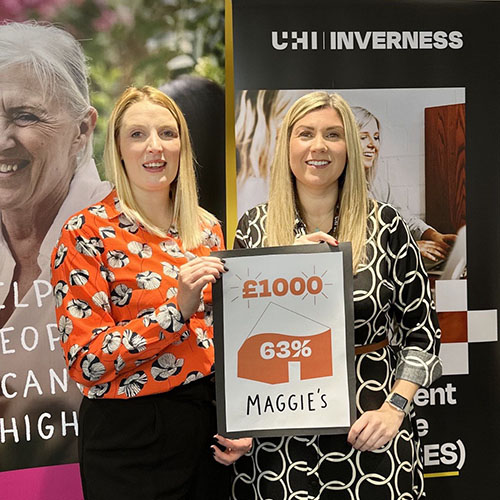 Almost 2,000 UHI Inverness students completed the Early Student Experience Survey, and the overall student satisfaction rate is a record 96.2 per cent, which is among the highest in the sector in Scotland.
Students chose Maggie's Highlands as the charity to benefit from a donation linked to the number of completed surveys. The response rate of 63.2 per cent is also a record-high figure, smashing the 55 per cent target and unlocking the £1,000 donation.
A Curry and Quiz Night for campus staff raised more than £1614 in aid of Maggie's, and the UHI Inverness team that took part in August's Run the Runway raised a further £663 through sponsorship and proceeds from a coffee morning. Those separate donations brought the final donation figure for Maggie's Highlands to £3,277.
The Early Student Experience Survey gauges how students feel about their first few weeks of study, and it helps to inform any changes and further improvements to the student experience.
Vice Principal Lindsay Snodgrass said: "We are delighted with the outcome of this latest survey campaign which has produced our best ever results. Maggie's means a lot to so many people because of the meaningful support it offers to cancer patients and their families across our area. I know our partnership with this important charity was a factor in this being our most successful survey campaign yet. This extremely high overall satisfaction rating is testament to the hard work of all teams across our organisation. The feedback we received will be vital in driving continuous improvement here at UHI Inverness and we're already acting on the survey responses to make further positive changes."
The incentive charity approach was adopted twice last academic year when UHI Inverness partnered with Mikeysline in October 2022 and with the James Support Group in March 2023. It resulted in the charities each receiving £1,000, as well as high response rates and overall student satisfaction rates of 95% and 93%.
All three campaigns were led by Quality Officer Emma Baillie who said: "Working with a charity partner has been a real incentive for students to complete our survey and has resulted in a huge rise in student engagement rates.
"This current campaign has really resonated with our students, and they now understand how important their feedback is and that it allows us to work together to make their student experience even better. We found that it empowers not only the students, but also the staff, as it gives them a real insight into how their teaching and support is received by the students and the positive impact it has. The survey has provided us with a wealth of information which we have collated, analysed and distributed across staff teams and we have already taken initial steps to respond to some of the points raised."
The donation will go towards the £500,000 the charity requires to fund its services each year. It was presented to Maggie's Highlands at a special event on campus on Wednesday, 25 October.
Tracey Gill, Centre Fundraiser at Maggie's Highlands, said: "We are delighted that UHI Inverness has selected Maggie's Highlands as its chosen charity this year. This partnership will raise awareness of the vital support and services that Maggie's Highlands offer to anyone living with a cancer diagnosis across the Highlands. We are grateful to all the students and staff who have selected our centre to benefit from the funds raised through the ESES. We also appreciate all the fundraising efforts of the staff and students at the events they have held, and we're excited to continue to work together throughout 2024. The funds raised will help us to continue to offer free practical, emotional and social support to those affected by a cancer diagnosis in the Highland and Islands area."


Elizabeth Keegan, UHI Inverness President of Your Students' Association, said: "I want to say a big thank you to all the students that completed the Early Student Experience Survey, helping us raise £1,000 for Maggie's and providing vital feedback about student experiences. It's brilliant to see so many positive responses, praising the lecturers, staff and the campus environment. The free text sections of the survey have enabled students to provide some fantastic constructive feedback, which will be analysed by each team and the students' association, with key action points identified and implemented. These changes will be reviewed throughout the academic year and in years to come, to ensure we are delivering the best possible experience for our students."