Scholarships transform students' career hopes
New business backed scholarships will provide UHI students with a financial 'lifeline' and help open up new career opportunities.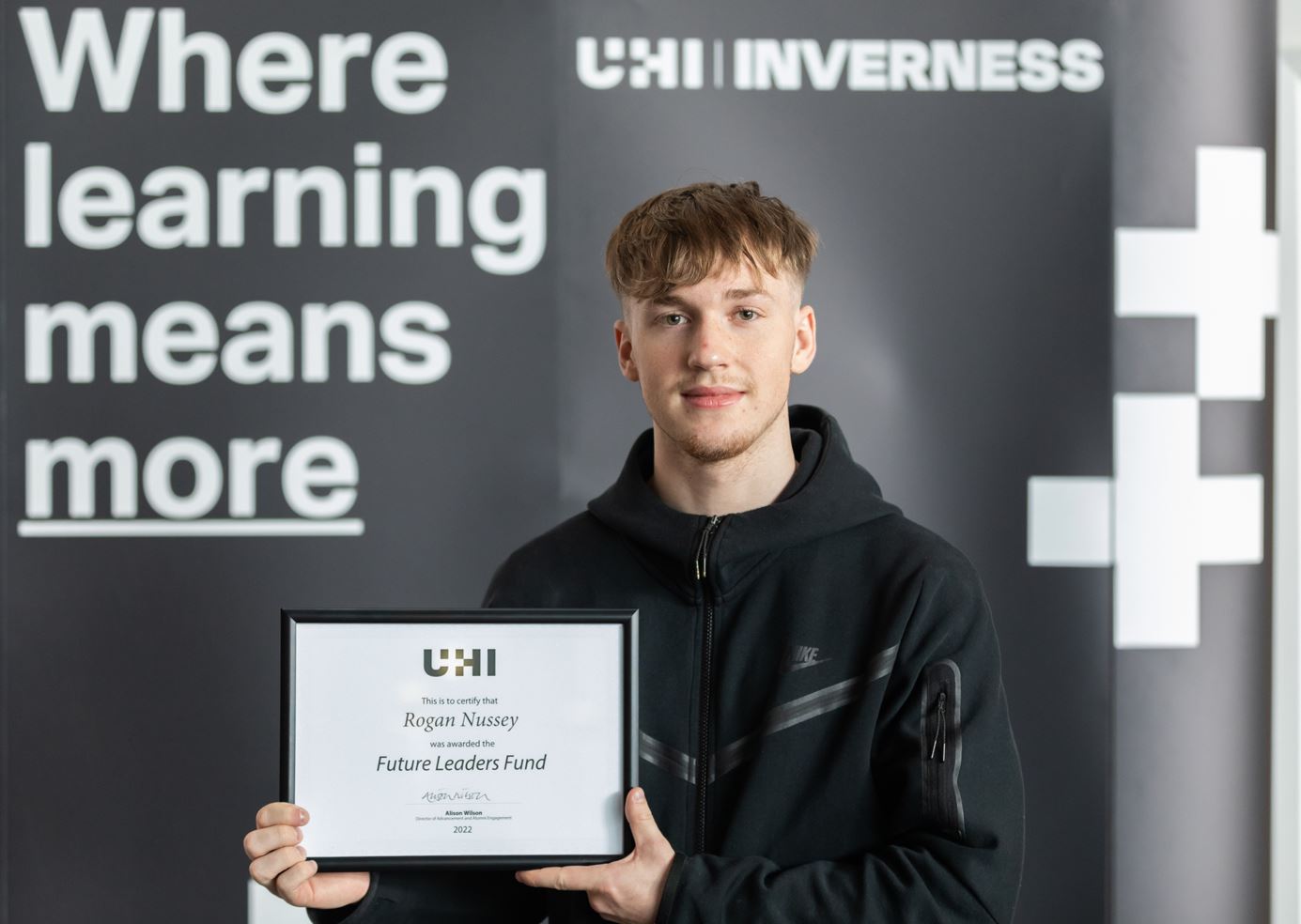 The latest round of funding packages will support students throughout their studies, nurture and retain local talent, as well as develop highly skilled labour for local industries.
Five students have recently been rewarded with backing from the Future Leaders Fund and Orion Group's Scholarships Programme.
For each the financial support will transform their access to education and open up opportunities that might not otherwise have been available.
Leah Topp, 18, from Elgin, Morayshire, is studying at the Scottish Association for Marine Science, a partner of UHI.
She said: "When I found out I got the scholarship I was so happy I don't mind admitting I had a cry. That's how much a difference the support will make. I'm absolutely thrilled. The support will take a huge weight off my shoulders, especially not having to worry about money."
Leah's scholarship is funded by Orion Group which works extensively in sectors such as energy, life sciences and the built environment, and wants to extend accessibility to key STEM subjects to all potential students.
She added: "The scholarship will open up opportunities for me that wouldn't have been there otherwise. I picked marine sciences because I've always lived near the coast and the ability to learn and have an impact on your environment is important to me. I am studying at the Scottish Association for Marine Sciences in Oban. My mum saw the facilities before me and told me it was an opportunity of a lifetime and that I had to go."
Undergraduate bioscience student Cassie Erskine secured her scholarship going into second year at UHI Inverness.
The 23 year-old from Drumnadrochit said: "During first year I worked two part time jobs to support my studies, the scholarship will lift that pressure. I also volunteer at Raigmore hospital and I'm already considering a Masters in biomedical science. I really like the idea of working in a hospital lab, doing research on different diseases and helping find treatments. There is also a vibrant life sciences sector in Inverness which is encouraging from a career perspective."
Jo Easter, 26, is studying environmental science at UHI Moray. They said: "I was astounded when I found out I had been successful, I couldn't believe it. I am a mature student, I'm also an unpaid carer for my wife, so I'm limited in the amount of work I can do to fund my studies. Money has been tight, so I'm very excited and pleased."
The Future Leaders Fund is supported by Fred. Olsen Seawind and Vattenfall and is designed to retain talented engineering students and help create a pool of renewable energy specialists to help deliver Scotland's net zero ambitions.
Mature student Jodie Cockburn, 25, is studying engineering systems at UHI Perth.
She said: "The scholarship will help me immensely."
Rogan Nussey, 17, from Golspie, Sutherland is studying engineering systems at UHI Inverness. He said: "The support will allow me to focus more on my studies and put extra time into my coursework, something I wouldn't have been able to do without the financial assistance."
At the heart of UHI's mission is the need to have a transformational impact on the prospects of the region, its economy, its people and its communities.
David Hinshelwood, Project Director for Muir Mhòr Offshore Wind Farm, a joint venture between Fred. Olsen and Vattenfall, said: "It's fantastic news that our support for UHI's Future Leaders Fund will support Jodie and Rogan in their engineering studies and I extend hearty congratulations to them. We are determined that our delivery of the Muir Mhòr Offshore Wind Farm supports Scottish industry and the local community, whilst stimulating growth in the local economy.
"The Future Leaders Fund will develop and inspire engineering talent, which will be vital for delivering projects such as ours and helping Scotland on its way towards net zero and a clean energy future. This is an exciting time to be building careers in renewable energy and I am delighted that the Muir Mhòr project is helping future leaders into the sector."
Alison Wilson, UHI's Director of Advancement and Alumni Engagement, said: "Our donors are investing in the next generation, ensuring that we can attract and nurture talent in our region and making sure that no one is prevented from studying with UHI because of financial circumstances. We are hugely grateful to Orion Group, Fred Olsen Seawind and Vattenfal for their invaluable help. We can already see these scholarships making a difference to individuals students' lives, and over time we hope to grow the range of scholarships available to encourage more students to choose to study with UHI, ultimately supporting the development of a skilled workforce in key sectors across our region."
Orion Group Managing Director Paul Savage said: "We are committed to supporting an inclusive approach to higher education and are acutely aware of the skills shortages within scientific and engineering sectors. Anything we can do to assist both is closely aligned with our desire to support diversity within our communities'.