Student of the Year winners celebrated as pride of UHI Inverness
An apprentice who mentored pupils and led the winning team in a sustainability challenge while studying and working night shifts has been named as UHI Inverness Student of the Year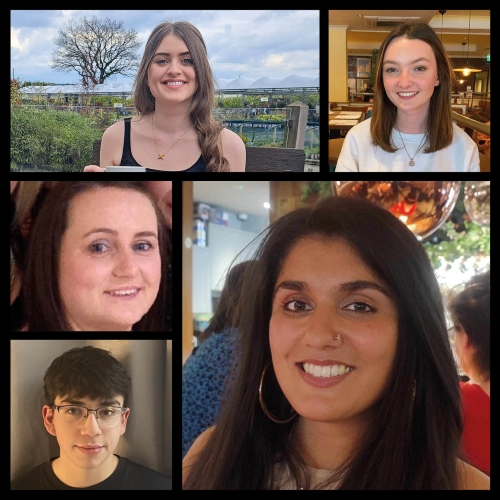 Nadia Johal (27) from Inverness, a fourth year Electrical Engineering Apprenticeship at wood panel manufacturing mill West Fraser, was chosen as the overall winner from the five category winners in the annual Student of the Year Awards.
The category winners are:
Higher Education Student of the Year – Courtney Lacey
Further Education Student of the Year – Keyleigh MacIver
Apprentice Student of the Year – Nadia Johal.
Postgraduate Student of the Year – Carla Lees
Senior Phase Student of the Year – Ryu Hernandez
The awards celebrate the achievements of students and apprentices at the Inverness Campus and the Scottish School of Forestry. The students have been recognised for a range of reasons, including academic achievement, overcoming adversity, personal endeavour and exceptional peer and mentor support.
Professor Chris O' Neil, UHI Inverness Principal and Chief Executive, said: "No matter what was going on in their lives, these five worthy winners threw themselves into their studies. They fully engaged with their lecturers and the learning environment, demonstrating an impressive commitment and enthusiasm to learn and achieve. By providing valuable support to their fellow classmates, sharing their skills to mentor others, overcoming obstacles to complete their studies and excelling in work placements, they are true role models. My warm congratulations go to them all."
The five winners were nominated by staff members and have each received a certificate and a £100 voucher.
Overall Student of the Year and Apprentice Student of the Year – Nadia Johal
Nadia has recently started fourth year of an Electrical Engineering Apprenticeship at West Fraser, while completing a SVQ3 in Electrical and Mechanical Engineering, as well as industry specific courses.
Nadia said: "It is nice for my achievements to be noted and appreciated after all the hard work I have put in while studying with UHI Inverness. Since leaving school in 2012 I have studied at the university a number of times, including completing a business-related degree. During my latest study experience I have had the chance to be heavily involved with STEM and STEAM projects where I have been able to meet many inspirational people. Being taught by lecturers with such impressive, real-life knowledge of the field really helped to enrich the entire experience."
Nadia was nominated by Jack Marley McIntyre, UHI Inverness STEAM Coordinator, who mentored her during two major projects. Nadia participated as a mentor to local senior school pupils in a STEM equity project and also volunteered to take part in the Fuel Change challenge. She led the team that won the project to identify sustainable working solutions for distiller Whyte & Mackay.
Jack said: "Overall, Nadia has shown the highest standard and enthusiasm that we look for from our student cohort, and I believe that she has gone above and beyond that standard. I believe we would be hard-pressed to find someone else who has achieved all that Nadia has this year, with the additional caveat that all these achievements were accomplished while Nadia was also working as an apprentice, including on night shifts."
Higher Education Student of the Year – Courtney Lacey
Courtney (26) from Stoke-on-Trent completed the second year of BSc Oral Health Science with flying colours after putting in extra hours to complete her coursework while undergoing treatment for Stage 4 Hodgkin's Lymphoma.
Courtney said: "I feel honoured and grateful to be in receipt of the award following my cancer diagnosis at the start of 2023. I have since undergone 16 infusions of intensive chemotherapy and I'm now waiting for my scan results."
Courtney has recently found out she is in remission and is looking forward to returning to her studies.
She said: "I am eager to carry on developing my clinical skills and treating patients again before working as a qualified dental therapist next year! I want to thank my tutors for their support and for working around me, they are truly amazing.'

Her lecturer and Personal Academic Tutor, Laura Bunce, said: "Courtney has shown exceptional strength, determination, and resilience throughout the second semester of second year. Following a period of illness over Christmas, Courtney received the life-altering diagnosis that she has Stage IV Hodgkin's Lymphoma. This diagnosis was divulged to Courtney over the phone whilst in a lecture. She made the decision to stay on campus and finish the working week, gaining her radiography qualification.

"Courtney then put in hours of extra study to complete her course work, taking course material to chemotherapy. She has experienced setbacks, illness, and adversity but through sheer will and determination Courtney managed to pass second year with flying colours.

"She has never allowed her diagnosis to slow her down or alter her positive attitude. Courtney is always bright and happy and lifts up staff and her peers."
Further Education Student of the Year – Keyleigh MacIver
Keyleigh (36) from the Black Isle, is a mum of two and manages the books for her partner's electrical contracting business while working as a health care assistant for Marie Curie Nursing Service.
Keyleigh, who has ambitions to be a palliative care nurse, said: "I am currently studying the BSc Nursing (Adult) programme which is going well. Completing the Access to Nursing course was the best step to prepare me for the next three years of study and I would definitely recommend it to anyone who thinks they are not 'academic' enough for university. They will soon prove themselves wrong and realise their huge potential!

"I felt an amazing sense of accomplishment and pride just being nominated by my lecturers, let alone winning FE Student of the Year. When I heard I had won the award I was humbled and speechless, some will definitely say that's out of character for me! Winning for me has really confirmed my potential, the potential that I didn't believe I had since I left school at 15. I am so pleased to have completed the course, as it has given me the confidence and spark to progress onto the BSc programme."

Her lecturer Chris Lemon said: "From the beginning of the course, Keyleigh has stood out with her eagerness to learn and her desire to draw from her experience. She is clearly thinking about her role as a nurse and developing a professional awareness and responsibility that you would expect from someone far further down the journey to become a nurse. Without fail Keyleigh was keen to be prepared for every subject well in advanced of time and has an enquiring mind that makes learning and teaching so much more rewarding."
Postgraduate Student of the Year – Carla Lees
Carla (22) from Ullapool recently completed her PGDE in Primary Education and is now a probationer teacher at Dingwall Primary School.
Carla said: "It means a lot to me to have won this award, I tried my best during the course, and I feel very lucky to have been working alongside other amazing students who helped me get through the year. Studying the PGDE at UHI Inverness allowed me to get the job I want, whilst also studying close to home so I could commute to campus. I am very thankful to the support from the staff and other students who helped me complete the year."

Teacher Education lecturer, Mark Lindley-Highfield, said: "Carla has been an exceptional student on the PGDE Primary Education programme. Not only has she driven over two hours each way every day she has come into our classes, but she has been a fantastic ambassador for UHI Inverness and the PGDE programme in her placement primary schools, where she has been commended repeatedly for the excellent work she has done."
Carla received glowing praise from her supporting class teachers during all three school placements, with one saying they have continued some of the practices she introduced into her classroom.
Senior Phase Student of the Year – Ryu Hernandez
Ryu (17) from Auldearn studied Preparation for Uniformed and Emergency Services while attending college every Friday as a Nairn Academy senior pupil.
Ryu said: "I have very much enjoyed my time at UHI Inverness as I have found the courses to be an enjoyable and informative experience. So much so I have progressed onto the full-time course at UHI Inverness."
He was nominated by his lecturer Robert Boyd who said Ryu was a great ambassador for his school and gave 100 per cent every day at college, and his relaxed but professional attitude made it seem effortless.
Robert said: "Ryu has a great personality and a good mindset, which has led him to have a very good skill set. He settled into the course extremely well and almost without any problems managed to win the hearts and minds of his peer group. He passed all four units with ease and along the way encouraged others to work to their best potential."
The calibre of the entries was so high this year that the judges decided that three further students deserved special mention. Ava Walsh, HNC Fitness Health Exercise; Amy Grant, Access to Motor Vehicle and Professional Cookery student Tetania Potapko all received highly commended certificates and prizes.