UHI Inverness partners with charity Maggie's Highlands to promote latest student survey
UHI Inverness students have chosen the cancer support charity Maggie's Highlands to benefit from the latest campaign to encourage them to compete the satisfaction survey.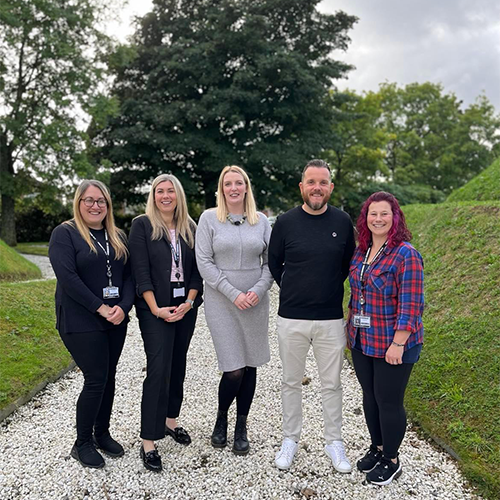 Hundreds of students voted at the recent Freshers Fayre for their preferred charity partner and two thirds of them chose the cancer centre based in the grounds of Raigmore Hospital to benefit from a donation linked to the number of completed Early Student Experience Surveys (ESES).
The higher the response rate, the larger the donation Maggie's Highlands will receive. It will go towards the £500,000 the charity requires to fund its services each year.
The survey launches today (Monday, 25 September) at an event in the atrium of the main building with campus staff on hand to help students complete the survey online. Students will also be able to chat to the charity's staff and receive information at campus events throughout the survey period.

Maggie's Highlands offers practical, social and emotional support to people living with a cancer diagnosis and their family and friends. Its distinctive green architect-designed centre opened in 2005 and it is a calm, welcoming space where people join groups, take part in activities and receive counselling and benefit advice.
Andrew Benjamin, Centre Fundraising Manager at Maggie's Highlands, said: "We're delighted that UHI Inverness students have chosen us as their charity partner. Maggie's Highlands costs more than half a million pounds each year to run and the money is raised almost entirely on public donations, so the generosity of people across our community, including fundraising by public organisations such as UHI Inverness, is critical to keeping our doors open. Unfortunately cancer doesn't care how old you are, everyone knows someone who has been affected and to have the student community involved in the fundraising, with the energy that they bring, is very important to us."


Centre Head, Seonaid Green, said: "It's a pleasant surprise to hear of the number of students who voted for us. We offer support to young people who have cancer in the family, and we are starting to see more students coming in - we're here to offer support to anybody at any age. This is a place to feel nurtured and supported and there is as much laughter here as there are tears!"

The incentive charity approach was adopted twice last academic year when UHI Inverness partnered with Mikeysline in October 2022 and with the James Support Group in March 2023. It resulted in the charities each receiving £1,000, as well as high response rates and overall student satisfaction rates of 95% and 93% in these surveys.

Lindsay Snodgrass, Vice Principal of UHI Inverness, said: "We are delighted to partner up with Maggie's Highlands for this year's ESES. We know it will inspire students to share important feedback about their learning experience, and it will also allow them to connect with a local charity that provides amazing support to cancer patients, their families and friends. My colleagues and I were fortunate to visit Maggie's Highlands recently and we were very impressed with its services, facilities, staff and the healing, supportive atmosphere within the building. Our initial connection with the charity has already resulted in ideas for future fundraising events and collaboration opportunities and we hope this is the beginning of a fruitful, lasting relationship."

The survey gauges how students feel about their first few weeks of study, and it helps to inform any changes and further improvements to the student experience.
The ESES campaign is being led by Emma Baillie, Quality Officer, who said: "The survey will provide us with a wealth of information and give us a revealing insight into the experiences of our students across our campuses during the first few weeks of the academic year.

"The fact the students chose Maggie's Highlands as their preferred charity shows they hold the work it does in high regard and raising money for charitable concerns is a proven positive motivator for our students. By sharing their views about their learning experience, the students will also contribute to a cause they care about."