Students cook up meals for families in need
PROFESSIONAL cookery students at UHI Inverness have responded to the cost-of-living crisis by taking on the task of preparing 500 meals to feed families in need this winter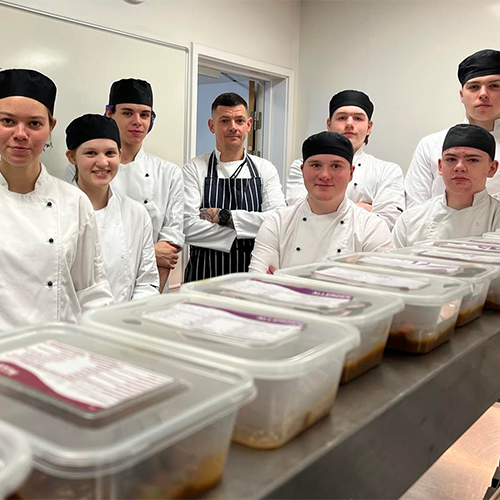 The SVQ Professional Cookery level 4 class and their lecturer Matthew Urquhart are supporting Gateway's Food for Families project by cooking 100 meals a week for five weeks in December and January.
It is the sixth year in a row that UHI Inverness has been involved in this project, which started 12 years ago.
As part of its annual Food for Families project, Gateway works to provide families in need throughout the Highlands with food and essentials over the festive period.
The meals are picked up by the charity, frozen and then distributed through local schools and social work teams in Inverness and Ross-shire. A total of 3000 meals are expected to be supplied over the festive period.
Professor Chris O'Neil, Principal and Chief Executive of UHI Inverness, said: "Coming out of a pandemic into a cost-of-living crisis has had a damaging impact on our local communities and we are aware that more families are in need than ever. "Supporting the area we serve is an important focus for us at UHI Inverness, and our students are pleased to get behind such a worthwhile cause, which is also an important educational experience for them. This is an example of the kindness and generosity of our students."

Matthew Urquhart, the students' lecturer, said: "It is important for the students to be involved so they can see what it's like to work in the commercial mass production of meals and it is also good for them to give back to the community and help local families as part of their studies.

"This is the first time this particular group has been involved in cooking for Food for Families and they are very enthusiastic, as they are fully aware of the impact of the cost-of-living crisis. They understand how the charity supports the community and they are more than happy to get involved."

Alex Gilchrist, general manager for Gateway, said: "We are delighted that the students at UHI Inverness are the first cooking team to kick off the twelfth year of Food for Families! This year we expect to have an increased demand for our frozen meals which are distributed through local schools and social work teams in the Inverness and Easter Ross areas.

"It is hoped that we will distribute around 3000 meals to families in crisis over the festive period. Without the help of our volunteer groups, this would not be possible, we are truly grateful for all the help given."