UHI Inverness lecturer wins national Mentor of the Year award
A UHI Inverness painting and decorating lecturer has won a Mentor of the Year award and donated his £1000 prize money to a cancer charity in memory of a much-missed late colleague.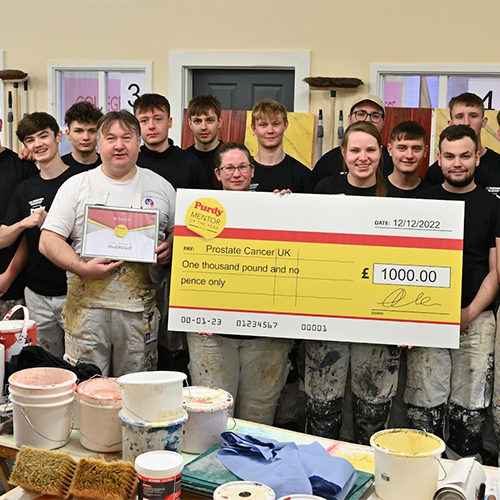 Mark Mitchell has been named as Lecturer Mentor of the Year 2022 by leading professional painting tools manufacturer Purdy.
After being a runner-up in the 2021 awards, Mark was nominated an impressive eight times for the 2022 competition.
Purdy's Mentor of the Year competition gives apprentices and those learning the trade the chance to thank the people who have had a positive influence on them and their learning.
This year saw a high calibre of entries and the judges felt that Mark had gone above and beyond to instil skills and knowledge in the next generation of professional painters and decorators.
He was nominated for his commitment and passion to ensuring his students strive to always achieve the highest level of workmanship. His nominees also recognised that Mark is incredibly proud when he sees students go through college and then go on to establish their own businesses.
Mark said. "Most painters and decorators are in their 50s or 60s; if we don't mentor the next generations and pass our knowledge on to them, the industry will suffer. With Mentor of the Year, Purdy has recognised this.

"I am incredibly proud to have won Mentor of the Year and so pleased to be able to donate the prize money to Prostate Cancer UK, in memory of my friend and colleague Alan Duncan who passed away in 2019, after battling prostate cancer for a number of years."
Alan worked as a painting and decorating technician at UHI Inverness for more than 10 years.
Mark said: "Alan was a popular and well-loved member of the team. He used to accompany our apprentices to competitions all over Scotland. He fought long and hard against prostate cancer and supported fellow sufferers by talking at support meetings at Maggie's Centre."

Carrie Higgins, tertiary education leader at UHI Inverness, said Mark's mentoring award was richly deserved, and she described his donation as a generous gesture.

"The fact that Mark received eight nominations proves that he is highly regarded by his apprentices, who recognise his commitment to their training and his determination to ensure they all reach their potential," she said.

"Mark is dedicated to sharing his skills, knowledge and experience to nurture future talent in the industry he loves, and he takes pride in developing constructive relationships with his apprentices, which is the definition of a true mentor."