UHI Inverness makes it a hat trick for Scotland's first College Expo Roadshow
The final College Expo Roadshow in a series of three, which takes place at UHI Inverness, will explore curriculum design within the context of learning in a post-pandemic world and the rising influence of AI.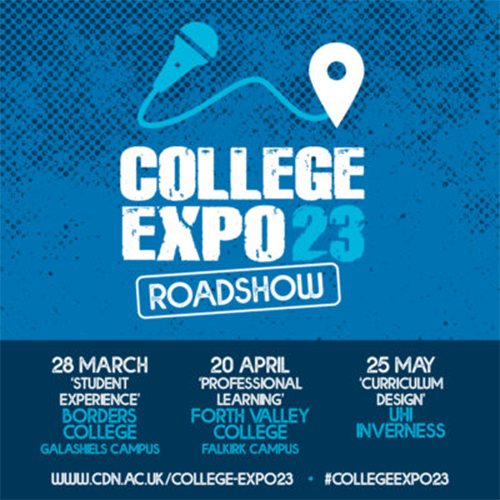 Taking place on Thursday, 25 May 2023 at UHI Inverness, the College Expo Roadshow event will bring together senior college leaders and experts in a panel to look at how factors such as the pandemic and advancements in technology, are influencing the structure and delivery of students' learning experiences.
Organised by College Development Network (CDN), this is Scotland's landmark event for everyone involved in post-16 education and training, as well as secondary school teachers.
The College Expo Roadshow kicked off in March 2023, at Borders College in Galashiels. A panel of experts discussed 'Student Experience' with a focus on student mental health.
The second College Expo Roadshow took place at the Forth Valley College, Falkirk Campus and explored 'Professional Learning'. Experts discussed the most effective professional learning methods, taking into consideration challenges such as time, access to materials, and budget constraints identified in the CDN Workforce Survey.
Discussions from the three College Expo Roadshows will inform aspects of the hands-on professional learning workshop sessions which will take place at the Virtual College Expo in June.
The two-day virtual event is a celebration of college excellence, and a national focus for staff development and practical innovation. It will include 24 interactive workshops, 10 seminar sessions, and keynotes from academic and industry leaders.
Chris O'Neil, Principal and Chief Executive of UHI Inverness, said:

"We are delighted to be hosting a College Expo 23 face-to-face panel discussion and we're looking forward to welcoming colleagues from the college network to our campus. This event will be a great opportunity for us to reflect on the curriculum and to engage in productive discussions about how we can best prepare our students for their future careers. By bringing together experts in college education we can learn from each other's experiences and gain valuable insight into best practice."

Simon Hewitt, Principal, Dundee and Angus College said:

"Due to challenges such as COVID and the cost-of-living crisis, colleges in Scotland have had to rapidly adapt over the past few years to ensure our curriculum continues to meet the needs of our learners and wider regional economies.

"More than ever, our curriculum must incorporate new trends and technologies, such as digital literacy, data and AI, which are fast becoming critical skills needed for learners to compete in the modern job market.

"There has also been a growing emphasis on sustainability and environmental awareness, as the impact of climate change becomes more apparent. It is therefore essential that our curriculum reflects these concerns, incorporating a greater level of environmental education and a hands-on approach to tackle ecological issues.

"With the inevitable changes needed in the future to support both social and economic growth, colleges are well placed to respond given the key role they play in their regional communities and the well-established partnerships they have with industry."

Jonathan Rees, Head of Professional Development, CDN said:

"Lecturers across Scotland's college sector have been collaborative with their approach to curriculum design, with tangible examples of innovation in their approach. However, with the rise of AI and advancements in technology it's imperative for teaching staff to incorporate new tools to best inform their practice. Our ultimate goal is to keep improving teaching methods, as our lecturers continue to find innovative ways to keep curriculum design that maintains the best quality of delivery."
Book your free place here: https://www.cdn.ac.uk/college-expo23/
Issued by CDN