UHI Inverness art students awarded prizes at graduate showcase
Art students from UHI Inverness received awards in recognition of their progress and talent during the opening night of their graduate showcase at the Inverness Creative Academy.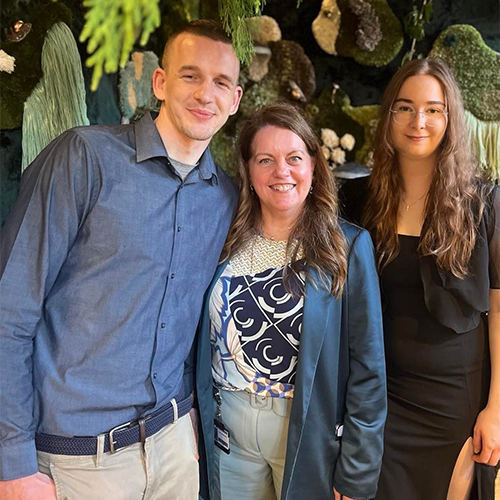 The seven final-year students from the BA (Hons) Art and Contemporary Practices course fundraised and worked together to stage the exhibition which celebrates their achievements and highlights their creativity, innovation and talent through various mediums.
Tertiary Education Leader Sharon MacFarlane presented the prizes to the students during an evening event which was attended by friends, family and UHI Inverness staff.
Katherine Humfrey and Sandris Masins received the Robertson Public Art Project Awards in recognition of their design of a public art feature installed at Robertson's Slackbuie affordable housing development in Inverness.
Katherine, whose exhibition work Unwind featured a moss wall created with mixed media tapestry, was also awarded the IM, Swedish Development Partner's Sustainable and Global Awareness Prize 2023 and was presented with a pen.
Julie Williams, whose work featured a large, knotted hanging of DNA strands, received the National Galleries of Scotland Award, which includes free membership to its venues. The Millers Art Prize – a £50 voucher for the Glasgow art store ­– was presented to Lauren Robinson for her still life and portrait pieces. Alistair MacLellan was awarded the UHI Inverness Purchase Prize for his conceptual work The BY & BY Compendium. It will go on permanent display in the main UHI Inverness campus.
In recognition of her collaborative practice and community service, Kiera Hogg received The Studentship Award. Her film and digital photography installation was themed around political surveillance. The WASPS Studio Prize for best use of the studio space was given to Morgan Jenkins, who displayed large paintings based on memories of Northern Irish landscapes.
Tertiary Education Leader, Sharon MacFarlane, said: "Our student exhibition is an exciting event; it is always fabulous to see their creative talent and how they personalise and develop their art skills within their own areas of interest. Providing the opportunity for our students to work on real-life projects and to be influenced by our stakeholders and employers is key to providing a truly international learning experience. We are delighted that some of our stakeholders have sponsored these awards and we thank them for their continuing support.

"We look forward to watching our students flourish and develop exciting careers."

Rachel Fermi, joint programme leader, said: "Most of this group of students first studied at NC level at UHI Inverness and we're so impressed by the progress they have made since then. Their first HNC year ended in lockdown, their second HND year was spent fully online and their third year was taught only partially in person. It's only been this last year of their studies that they have had full access to the UHI Inverness studio in the Inverness Creative Academy. These students have shown great strength and determination in seeing through their studies and we as lecturers are really proud of them.

"We are delighted that our students have had the opportunity to work and exhibit in Inverness Creative Academy, a professional artist space that gives them unique access to creative professionals and opportunities. We are all excited to see what the future holds for this group of students."
Speaking on behalf of all the students at the opening, Kiera Hogg thanked all the lecturers and technicians for their invaluable support over the years.
The BA (Hons) Art and Contemporary Practices course was developed to provide a direct progression for students graduating from the two-year HND in Contemporary Art Practice to allow them to complete their studies to degree level.
The showcase will run until 6pm on Thursday, 18 May.