University of the Highlands and Islands Business Competition winners reach Engineers in Business Champions of Champions final
AWARD winners from the University of the Highlands and Islands Business Competition have secured a place in the final of the Engineers in Business Champion of Champions innovation competition, which takes place at the Royal Academy of Engineering on 22 October 2021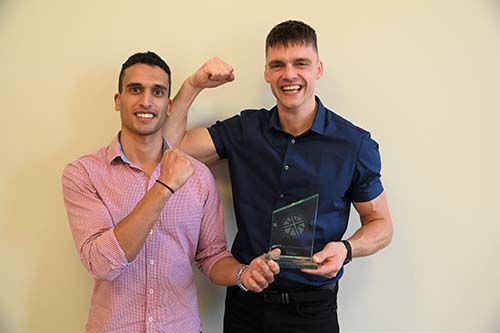 Matej Papp, a personal trainer from Inverness, and business partner Ahmed Nassar, won the Best Engineer Award, sponsored by the Engineers in Business Fellowship (EIBF), at the university's business ideas competition earlier this year, qualifying them for a place in the EIBF Champion of Champions final with their transportable and lightweight portable boxing ring - GoSparTM.
Matej and Ahmed will pitch their innovation against nine other teams of student and graduate innovators in the final, with £15,000 is up for grabs, providing vital seed money to help the winners develop their innovation. The winners will also receive mentoring from business leaders who are members of the Sainsbury Management Fellows network, plus CV packages from Purple CV and entrepreneurial books from Cambridge University Press.
Commenting on their progress within the competition, Matej said: "Being one of the finalists is a huge achievement for us. It inspires us to continue our journey towards taking our product to market and provides us with a sense of recognition which is invaluable to us at this stage."
Roz Thomas, an enterprise lecturer with CREATE, organisers of the University of the Highlands and Islands business competition, added: "We are absolutely delighted for Matej and Ahmed, who are thoroughly deserving of their place in this final. They have not only come up with an innovative engineering idea, which responds to market need, they continue to show a tremendous amount of passion and determination for their product. We continue to support Matej and Ahmed in their business development and wish them the very best of luck for this competition."
GoSparTM is easily transportable and lightweight to make training anywhere at any time as simple as it should be. In its packed-away form, it is compact and can fit into the average UK car. As such, boxing personal trainers can now do their sessions outdoors with clients and are not limited to a single location. Boxing gyms with limited space also have the capability to set up GoSparTM when needed and pack it away with ease, without giving up premium space.
The Engineers in Business Fellowship Champion of Champions final is designed to inspire engineers to study business and innovation.
Matej added: "Business innovation skills are an extremely valuable asset to have as a student or graduate engineer. Bridging the gap between theory and the real word is where the true rewards are reaped. Business skills allow engineering ideas to be brought to market and fine-tuned in a manner that is forcibly cost-effective. If an engineer practices and hones such a skill, they are capable of turning ideas into reality, which in our view, is the essence of engineering."
The live online dragons' den style competition will be compered by TV presenter, Rob Bell on 22nd October. Matej and Ahmed will have six minutes to convince the judges, through their presentation and Q&A session, that they should be crowned a Champion of Champions and take home a cash prize of between £1,500 and £8,500 depending on the award or awards received.
There's also a people's vote, where you can vote for your favourite innovation. The team that receives the most public vote will win £500. Vote here.