Inverness College UHI student designs Highland charity's logo
AN Inverness College UHI student will see her design work brought to life as part of a Highland charity's rebrand.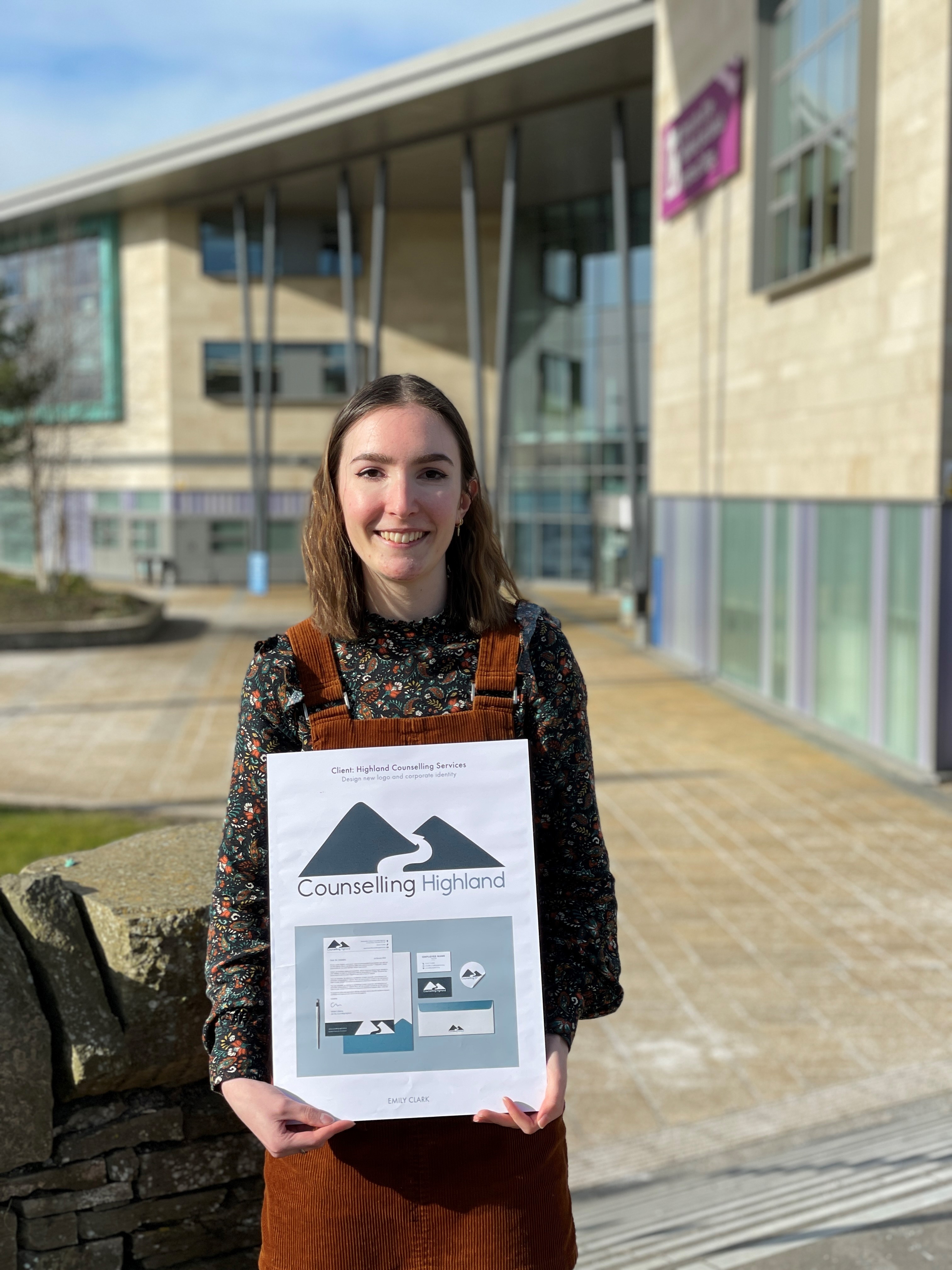 Counselling Highland worked with the HND Visual Communication students at Inverness College UHI to design a new logo and corporate identity for the charity.
The charity's board, its counsellors and volunteers, voted on their preferred design, with work by student Emily Clark chosen. Her designs, which depict the idea of a relationship being about personal growth and a journey, will now be implemented by the charity to raise awareness of its services across the Highlands.
Emily (19), from Dingwall, said: "Working on a live brief like this is hugely beneficial as you get to work directly with the client and hear their feedback. It's been an amazing opportunity to learn and develop. It was such an interesting and exciting project to be involved in, and to have my designs used in real life is just an honour."
Counselling Highland is part of Relationship Scotland, a national network of counselling services. The charity approached Inverness College UHI for support because it wanted to raise awareness of its services in the Highlands and change perceptions about counselling.
Sarah Speakman, manager of Counselling Highland, said: "We find people come to us in crisis, but we want to people to come to us before that. Talking about your relationships and developing your relationships is healthy. People still approach relationship counselling as if it's something to be ashamed about and we need to change that as there's so much value in seeking relationship support."

Sarah added: "It was an absolute privilege to work with the HND Visual Communication students. The whole process was really thought-provoking and inspiring for us. The students were so interested, thoughtful in their approach and produced an incredible standard of work. It was so hard to pick a winner, but we loved Emily's concept and it's inspired lots of new ideas."

Anita Parker, Chair of Counselling Highland, added: "We are delighted at the success of this venture and looks forward to developing further links with the UHI partnership as the charity embarks on a three-year period of development."
Implementation of the new brand by Counselling Highland will be supported by the recruitment of a new project development officer to raise awareness of the charity.
Ken Gowans, a lecturer in Visual Communications at Inverness College UHI, added: "Working with real clients on a live brief is fundamental to the success of our visual communications programmes. These projects not only provide an excellent student experience but support the development of knowledge and skills required to move into a career in digital media, graphic design, illustration or marketing. I would like to thank Counselling Highland for all their support and look forward to seeing Emily's designs applied in the future."
Applications are now open for visual communication programmes starting in September 2022.