Inverness College UHI support for mental health charity Mikeysline
Inverness College UHI has been raising funds and awareness for mental health charity Mikeysline in the run up to the Christmas break, when support services are needed more than ever.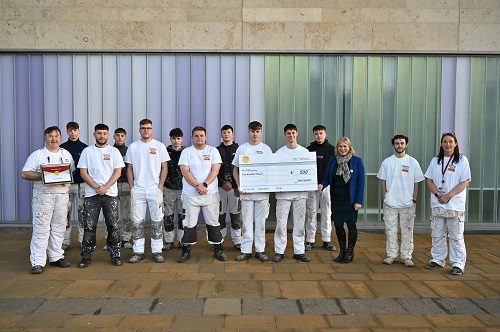 Staff have raised more than £1000 for the charity in recent weeks, with painting lecturer Mark Mitchell personally donating £500 from prize winnings he received as runner up in a UK-wide Mentor of the Year competition run by professional painting tools manufacturer, Purdy. Mark was nominated an impressive three times by apprentices for his commitment to ensuring they leave college with the skills they need to be professional painters and decorators. The college also held a Christmas raffle which raised more than £500 in direct donations for the charity.
The college has been working with Mikeysline to increase awareness of its text-based support service amongst students in the run up to Christmas.
Lindsay Snodgrass, Assistant Principal – Student Experience and Quality at Inverness College UHI, said: "We recognise that many students may be feeling anxious because of the Covid-19 situation or a change in routine associated with the winter break. We work with a range of support services to ensure students have access to support they need particularly at this time of year, as we recognise one size doesn't fit all. Mikeysline is an amazing charity, which has done so much locally to break the stigma of mental health, particularly amongst young males. We're delighted to have been able to support them through donations, but also in raising awareness of their text-based service as well as the mental health and crisis support centre. There's lots of support out there and nobody should suffer in silence if they are struggling."

Mark Mitchell, Painting Lecturer at Inverness College UHI, said: "Mikeysline is a charity close to my heart. It really can be a lifeline for young people struggling with their mental health. I spoke to my apprentices about it, and they were all incredibly passionate about the work Mikeysline do in our local community and were very supportive of the donation."

Emily Stokes, Chief Executive Officer, Mikeysline, said: "We are delighted to have been working closer with Inverness College UHI to raise further awareness of the support options that we can offer and the importance to all of us of reaching out for support when we need it. We are really grateful for all the fundraising efforts by staff and students in the lead up to Christmas, which will help us to continue providing our vital services.

"Mikeysline's services will continue to operate 7 evenings a week over the festive period, through our text- based support, additional call back service upon request and for face-to-face support at our Hive, 19 Academy Street. No-one should be alone with difficult thoughts or feelings at any time of the year and we are very impressed by the College's efforts to ensure students and staff are aware of a range of support options during this time."
During term-time, students at the college have access to staff for an extensive range of support, including physical, mental, social, and emotional, as well as learning support and counselling. The college also works with a range of external services to ensure students can access the appropriate service for them.
The college is closed from 1pm on Wednesday 22nd December to 8am on Thursday 6th January, and has put together a holiday toolkit to support students during the break, when its normal student support services are unavailable. The toolkit includes links to support services, foodbank information, self-care and safe partying advice over the winter break.
All students across the University of the Highlands and Islands partnership also have access to Togetherall, an online, 24/7 digital mental health support service, and Spectrum Life, a 24/7 out of hours mental health support line.