New theatre collective aims to stop drain of emerging artists
DRAMA graduates from Inverness College UHI have established a new theatre collective in the Highlands and Islands to stop the drain of emerging artists from the region.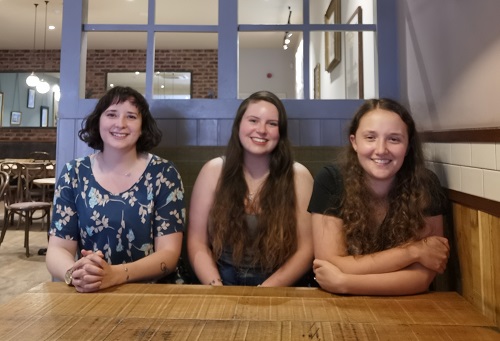 Alumni of the University's BA (Hons) Drama and Performance programme, Laura Walker, Keira Smith, Sophie Bender and Sophie Wink, created Vivid Roots Collective during the early days of the pandemic in response to the loss of live performance. They hope the Collective can provide a professional base for emerging artists in the north who want to develop their portfolio of work.
A successful crowdfunding campaign by the Collective has raised more than £1100 to support new artists and the creation of original works which tackle modern social issues.
Keira Smith, co-founder of Vivid Roots Collective, explained: "We were all working on original works and feeling a bit dejected because of COVID-19 and the impact it was having on our industry, particularly live performance. We'd each been working with companies like Traverse Theatre, Scottish Youth Theatre and Surge at Eden Court, but we wanted to create an outlet in the Highlands and Islands to support emerging artists. There is a culture in the industry that to get anywhere, you need to move down to the central belt. It isn't that easy for some people, and we wanted to challenge that."
The Collective has been working on three original, work-in-progress pieces, which will be performed live, online on Saturday 25th September. Tickets will go on sale shortly via the Vivid Roots Collective website. The performances will feature emerging artists, who will each receive a small fee from money raised from the crowdfunding campaign.
Keira added: "We've had a huge amount of support from the creative sector here and we're looking forward to performing our three work-in progress pieces to a wider audience. Each short piece is centred around a different social issue and tackled using a different approach to tell their respective stories on tackling social empowerment, the rejection of traditional female roles and the stigma surrounding abortion."
Lindsay Dunbar, a creative and cultural project manager, said: "I've been championing theatre production in the Highlands and Islands for over 10 years. I'm delighted to have supported the campaign by Vivid Roots Collective because I believe passionately in the future of theatre-making with talented Highland artists. The emerging work adds an exciting new voice to the sector, and I can't wait to see what they do next."
Laura, who has returned to study an MRes in Creative Practice with the University of the Highlands and Islands, added: "Now that we have cast our pieces, it has been really exciting for all of us; our performers are enthusiastic about getting paid work in the Highlands and supporting the company as a whole. We're really grateful to everyone who has supported us thus far and expect it to be the start of something really special."
For more information, visit: vividrootscollective.co.uk or follow the collective on Instagram @vividrootshighland