Shinty study will support teams and players to compete at top level
A NEW study led by UHI Inverness will support shinty teams across the North of Scotland by identifying the training needs required for players to compete at a professional level.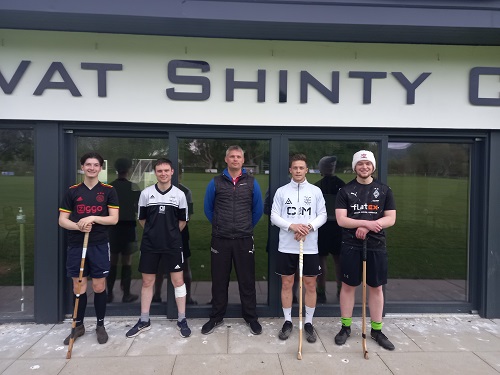 Sports lecturer Jed McKernie is working with local teams' Beauly, Glenurquhart and Lovat to carry out a training needs analysis to inform best practice in training so players and clubs can get optimum results on the pitch.
Data from fitness tests and GPS tracking will be collected from players throughout training sessions and competitive league matches over the next six months.
Mr McKernie, who is conducting the study as part UHI's Masters by Research in Exercise Physiology, Training and Nutrition, said: "This is a fantastic way for UHI Inverness to support our shinty community, as traditionally teams have had to rely on research from other sports to inform their training. It's going to be hugely beneficial for teams looking to improve their squads, but also players in all divisions by giving them a base upon which to compare themselves against elite players and the tools and know-how to compete at international level.

"We'll be carrying out fitness tests, looking at things like speed, how quickly players can change direction and the general physical requirements of the sport. We'll also be working with Lovat to track players using GPS technology so we can analyse pitch activity during a competitive match."
The study further strengthens the relationship between UHI and the sports' governing body, the Camanachd Association. Last year the two organisations signed a memorandum of understanding to work together to explore opportunities around volunteering, work experience, education, and training, coaching and community awareness.
UHI Inverness is already working with the association to secure the critically endangered craft of caman-making by exploring innovative and sustainable manufacturing processes and the development of a manufacturer's co-operative.
Derek Kerr, Camanachd Association CEO, said: "We are delighted to once again be working in partnership with UHI. On this occasion the project will deliver reliable, cutting-edge data for all shinty clubs and will be a great tool to track progress and drive development within our sport. Furthermore, we are aware that one of our clubs, inspired by this project, has moved forward with GPS technology independent of the project. It is clear that the impacts of this fascinating piece of work are already being felt even before the conclusion of the project."
The research project, 'The science of shinty: a needs analysis and training considerations,' will take two years to complete.
Ends
For more information, please contact Helen Aird, Marketing and PR Executive, UHI Inverness at Helen.Aird.ic@uhi.ac.uk or telephone 01463 273315/07584616252.