UHI Inverness introduces free lunches for students
A FREE lunch of soup and a roll is being offered to all UHI Inverness students to help them cope with the cost-of-living crisis.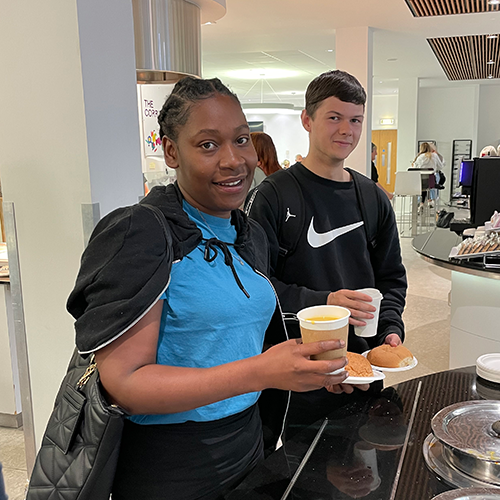 The lunch offer was introduced at both the Inverness Campus and the Scottish School of Forestry on Monday.
Students at UHI Inverness have been entitled to free toast for breakfast since March in recognition of an increasing number of students living in poverty. The self-service option has been taken up by around 100 students a day with uptake rising steadily.
With the deepening cost-of-living crisis and winter looming, it was decided to extend the support for students to include lunch. The free breakfast is available from 8.30am to 11.30am and the free lunch is available between 11.45pm and 2pm.
Professor Chris O'Neil, UHI Inverness Principal and Chief Executive, said: "We are acutely aware of the impact that the rapid rise in the price of energy and essentials is having on our students, and we want to ensure that none of them go hungry. We are here to support our students and the free breakfast and lunch is part of a package of measures, under the banner Share the Warmth, that is available to help students who are struggling."
UHI Inverness has a range of support in place to help students continue in their studies. Free necessities, including donated toiletries and good quality coats and jackets are available to students in The Cubby, a room next to the library in the Inverness Campus. There are also plans to introduce a food bank, known as The Larder, in the coming weeks. Laptops can also be loaned to students and financial support is available through discretionary hardship funding.
Students in poverty is the theme of a national online college conference, which will be addressed this week by Professor Vicky Johnson, Director of the Centre for Living Sustainability at UHI Inverness.
Professor Johnson will be one of the speakers at the College Development Network (CDN) Pathways from Poverty Symposium on Thursday, September 8. The symposium will examine the role of Scottish colleges in addressing the challenges of poverty, inequality and economic injustice for individuals and communities. One of its aims is the prevention of poverty through access to college.
Her presentation, entitled Processes of Inclusive Action Research Across Colleges on Poverty, focusses on the need for youth-centred research and evidence from young people to inform college action on poverty.
Professor Johnson said: "In our research on Covid recovery with the hardest hit across the Highlands and Islands, we found inequalities widening and that young people were feeling anxious about their uncertain futures. Now, with the cost-of-living crisis, we need to engage our students in research to evaluate and share what we are doing to address food, fuel, period and digital poverty, to help us develop innovative strategies to address poverty in our colleges, and to advocate for targeted government support to the most marginalised in our communities."