Campus and student life
content
What makes the capital of the Highlands such a great place to study content
What makes the capital of the Highlands such a great place to study
What makes the capital of the Highlands such a great place to study
Safe, city life
A compact and beautiful city with all the benefits of cosmopolitan life, including a fantastic choice of cafes, restaurants, bars, arts venues, and sports facilities. Inverness remains one of the country's safest cities.
Great outdoors
As the start and end point of the NC500, one of the UK's must do experiences (Lonely Planet, 2019), and the Cairngorms National Park just a stone's throw, you'll never be stuck for something to do, with unforgettable glens, lochs, mountains and beaches on your doorstep.
Culture and community
Inverness is shaped by the region's rich cultural heritage, from its language and history to its stunning natural environment and vibrant arts scene. It was also named Britain's most culture-rich city in 2019 (Ticket Source). You'll be welcomed by a warm, friendly and generous commuunity.
Your campus content
Your campuses content
Your campuses
Your campuses
We think our campuses are pretty special. Not only are our buildings are modern and equipped with the most up-to-date technology, they're alse within stunning outdoor locations.
Experience our 360 virtual tour - UHI Inverness, Inverness Campus
Our facilities
At our main UHI Inverness campus on Inverness Campus, you'll find a large atrium, which is the hub of activity during the academic year. It's also home to our campus shop, Lochan cafe and Sheiling training restuarant.
Upstairs, you'll find our hair and training salons, a four-court sports hall, a fully-equipped modern gym, and our Corrie restaurant.
We also have a large lecture theatre, performing arts studio and library and learning resource centre.
Student association content
Student association
Student association
At UHI Inverness, you'll be represented by the Highlands and Islands Students' Association and the local HISA Inverness Team.
HISA works with students to improve your experience and as a student, you are automatically a member.
Their work is focused around three main areas:
Improving the quality of your course experience
Providing activities and clubs you can participate in
Working with management to ensure your learning environment is always excellent
HISA represents your views through elected officers and class representatives. They work in partnership with staff to ensure that the student voice is heard on all issues. The team also organises a wide range of events throughout the year including its HISA Conference and Freshers' Fayre.
HISA can also help you set up clubs and societies. If you need information or advice, have a great idea to share or want to put your hand up to represent your peers, you can get in touch with the local HISA team.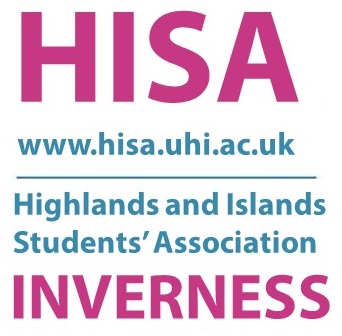 Student life content
Student life
Student life
Being a student isn't just about studying. It's also about meeting new people, experiencing new things and developing your confidence as an individual. The Highlands and Islands Students' Association team at Inverness support students to set up clubs and societies. You can join an existing club or society or create your own!
Current clubs and societies include:
Airsoft Society
Christian Union
Indoor Climbing Club
Computer Club
Curling Club
Digital Creative Club
Drama Society
Forestry Society
Geography Society
Hillwalking Society
HISA Rainbow Foundation
Inverness College Rowing Association
Islamic Society
Queerness
RPG Society
Tabletop Games Society
Vegan Society
You can also find a list of regional clubs and societies.
Discounts content
Discounts
Discounts
We don't want you to miss out on all the fantastic discounts available to students.
When you start, you'll receive a digital student ID card, which will help you access these discounts.
You can download The UNiDAYS student app which will help you get the most out of being a student.
You can also join Totum Digital for free.
Locally, lots of businesses, shops, restuarants, bars and cafes also offer student discounts.
Our campuses are also served by Stagecoach, which offers a student discount.
Staying connected content
Staying connected
Staying connected
There's lots going on to help you feel connected with the wider student community.
HISA organise a range of events throughout the year, including our Freshers' Fayre, which takes place in September, and Refreshers' Fayre in February.
Events in recent years have included:
Online quiz night with Mark Labbett, aka 'The Beast' from ITV's The Chase.
Shout for Students, a campaign to mark the efforts of all the students graduating during the pandemic.
Pop up bar night at our Inverness College UHI campus.
HISA Nature Explorer, a project encouraging students to get out and interact with nature.
World Mental Health Day events.
Freshers' Fayre featuring 100 local businesses.
HISA Conference, with guest speakers, workshops, comedy night and the chance for students to have a say in the future of the University partnership.
Online yoga sessions.
Netflix party and online escape room.
Our Student Support Team also run events to help students feel connected, including regular wellbeing groups and workshops.
Student engagement content
Student engagement
Student engagement
As a student at UHI Inverness, you are expected to invest time and effort to gain your qualification. Therefore, it is only right UHI Inverness meets your expectations and you have a positive and effective learning experience.
Our Student Engagement Officer works closely with the Highlands and Islands Students' Association in Inverness to help you enjoy your time here as a student, but also to promote opportunities to get involved and make your voice heard.