Education Minister visits Inverness College UHI to learn about work to support the net zero green economy
The Scottish Government's Minister for Further and Higher Education has visited Inverness College UHI to learn about changes in its curriculum which will support transition to a net zero green economy.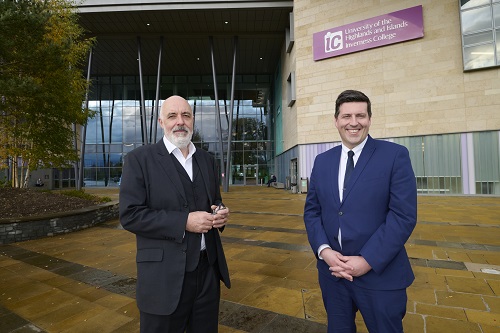 Jamie Hepburn MSP also heard about the College's work to support the COVID-19 recovery in the region and help young people into studying, train or work.
The College has been working with Capgemini to deliver Modern Apprenticeships and CISCO-accredited IT Essentials training to its employees following the firm's recruitment drive for new IT and cyber security staff in the Highlands.
Across the region, the College is working with employers to upskill and reskill staff as well as support business growth through a range of different funding and innovation schemes. The College currently delivers around 700 Modern Apprentices across a variety of sectors, of which more than 80% are aged 16 to 24. The move towards renewables and more energy-efficient practices is driving growth in some areas, including construction and engineering.
Mr Hepburn met Professor Chris O'Neil, Principal and Chief Executive of Inverness College UHI, and Carrie Higgins, Tertiary Education Leader, for a tour of the campus on Monday.
Across the engineering, construction, built environment, forestry and applied sciences curriculum, the College is working to fill skills gaps and training in a circular economy, including a focus on more sustainable practices and climate change impacts.
This includes developments in automotive engineering, with the College set to become the Energy Skills Partnership North Hub for the Automotive Training Network, a move which will see it delivering electric vehicle safety training to automotive technicians. The Scottish School of Forestry is working with the sector to address the skills shortage in the forestry industry, while, in construction, there is increasing focus on new, emerging reusable technologies, digital skills and innovative, off-site construction methods.
Professor Chris O'Neil, Principal and Chief Executive of Inverness College UHI, said: "It was a pleasure to welcome Jamie Hepburn MSP, Minister for Further Education and Higher Education, to Inverness College UHI to learn more about our work. We are working closely with employers and industry bodies to ensure we play our role in supporting the Highland region in the COVID-19 recovery and the transition to a net zero green economy."